more news
Senior project leads to jobs for engineering technology grads
Tuesday, May 25, 2010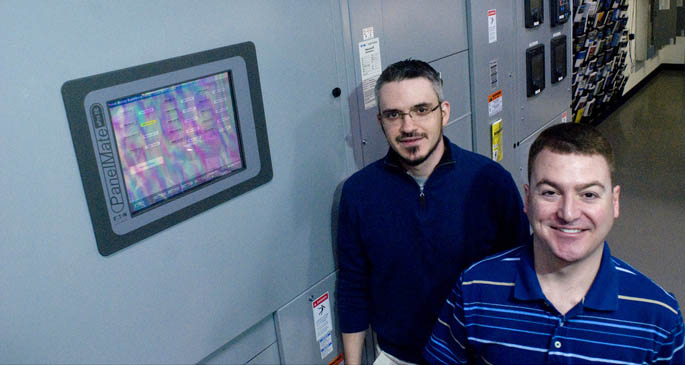 Electrical engineering technology graduates Charles Frederick, left, and Eric Carper are working for Eaton Corp. after doing their senior design project with the company.
Two recent engineering technology graduates credit their senior design project with providing real-world experience, professional contacts and ultimately job offers.
Eric Carper and Charles Frederick now work at Eaton Corp., an international power management company, and say the ET407 course at Point Park University opened the doors to the corporation. Carper, Frederick and a third student, Matt Makar, worked with ET407 instructor Louis DeMore, Ph.D., to design and build a project in the company's Warrendale office.
DeMore, former president of Acutronic USA, Inc., a global supplier of motion test and simulation systems, leads one of the senior capstone courses in Point Park University's engineering technology program and serves on a Natural Sciences and Engineering Technology advisory board. DeMore and other advisory board members use their corporate contacts to set up projects that provide real-world experience and opportunities for NSET students.
Carper and Frederick, then in the electrical engineering technology program, spent 12 weeks last summer working on a resistive load bank the corporation wanted to move and control remotely. Under DeMore and laboratory associate Michael Kruth, the students designed the project in the classroom then went to Eaton's facility to disassemble the load bank, build new panels, add new electrical loads and indicator lights, and reassemble the machine. The students presented the project to Eaton management through demonstrations and, as a result, met professionals from throughout the corporation.
"It was a great experience," says Carper. "Twelve weeks isn't very long, and we went down to the wire getting it done, staying after hours as we needed. But the project turned out really well."
Frederick said the project offered "a great opportunity to put some of my education into actual practice" and he encouraged other engineering technology students to make the most of the ET407 course.
"Be prepared to roll up your sleeves and get to work because the class is hard and demanding," Frederick explains. "However, it will be worth it in the end -- at least it was for me. The learning experience alone was great!"
Carper says taking the senior design course during the summer proved to be good choice, allowing for extended time at a company's location and more opportunities to meet professionals in the workplace. The 38-year-old Weirton, W.Va., resident completed his studies at Point Park in December 2009 and began work in January in the Power Systems Engineering Department at Eaton. Frederick, 30, of Forest Hills, Pa., who served as founding president of the IEEE student chapter at Point Park, also graduated in December and began work in February in Eaton's Power Systems Automation Department.
"Eaton Corporation was very receptive to the project and the students' work," says DeMore. "It was clear we treated it as a professional experience and the students did also." The instructor notes that for seniors, the capstone course not only provides hands-on experience but brings together multiple disciplines in engineering technology.
More About: alumni, engineering technology, success story, electrical engineering technology