more news
Singapore Educators Meet with Graduate Education Professors
Thursday, July 3, 2014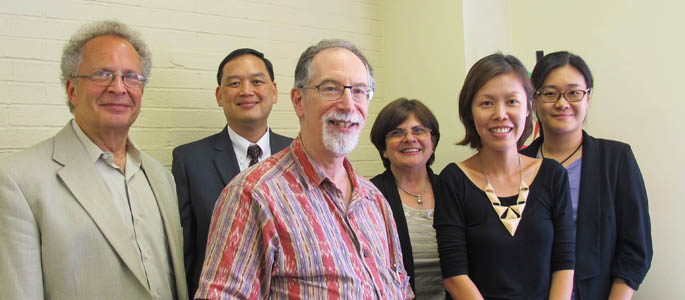 Richard Gutkind, Ph.D. and Vincenne Revilla Beltrán, Ph.D., professors in the graduate education department at Point Park University, hosted educators from Singapore Polytechnic on campus June 26.
Gutkind and Revilla Beltrán hosted the international visitors for a luncheon and gave presentations on the history of U.S. education and teacher training while offering strategies to further engage students in online learning.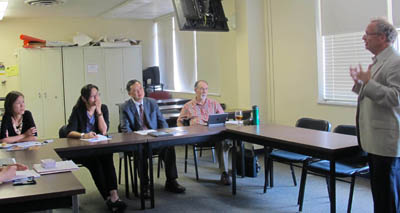 Gutkind talks to the Singapore visitors about the history of education in the
United States.

"This was a wonderful opportunity to share about instructional practices, emerging technologies, effective methods of student interaction and teacher professional development, all in the context of cultural variables," said Revilla Beltrán. "We learned a lot from each other and plan to continue to stay in touch with our new colleagues."
Norton Gusky, a member of the Point Park Graduate Education Advisory Board, arranged the Singapore educators' international visit to Point Park.
Last year, Gutkind and Revilla Beltrán welcomed educators from Central and South America on Point Park's campus to share information about best practices in online learning and effective technologies to enhance teaching.
Learn More
Learn about the undergraduate and graduate education programs at Point Park and meet the faculty in the department.
More About: faculty presentation, faculty, education