more news
Student Profile: Audrey Eisentrout, Double Majoring in Premed and Biological Sciences
Wednesday, December 12, 2012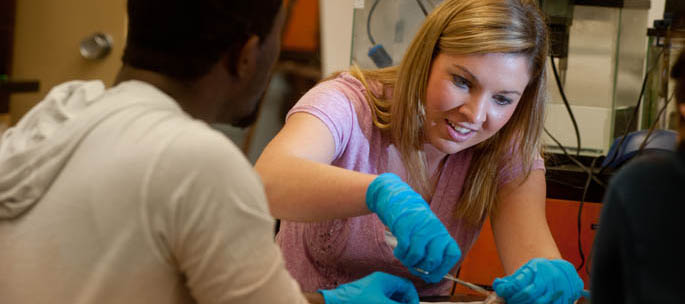 Eisentrout is pictured above dissecting a sheep brain with another Point Park student.

Meet Audrey Eisentrout

Double majoring in: Premedical and preprofessional studies and biological sciences
Expected graduation: May 2015
Hometown: Cumberland, Md.
High School: Allegany High School
Current living in: Pittsburgh, Pa.
College Activities: Softball team (pitcher), Honors program, The Body Christian Fellowship Group (leadership team) and Green and Gold Society (member)
Why did you decide to double major in premedical and preprofessional studies and biological sciences?
In my sophomore year of high school, I tore my ACL playing basketball. I then tore the ACL in my other leg last year while playing softball. These experiences have encouraged me to pursue a medical career in physical rehabilitation and help other athletes in similar situations to me. In addition, I've always been interested in the math and science fields so both majors seemed like a good fit.
What factors attracted you to Point Park?
It has always been my dream to play softball in college. I was recruited to come to Point Park for softball but I also chose this University because of its small class sizes. Small classes are how I learn best and I liked the opportunities the premed program offered. Since Pittsburgh is a center for research and medicine, I thought Point Park's Downtown location would be a great place to study and prepare for the medical field.
Describe Point Park's professors in the natural sciences department.
The professors are definitely dedicated to the students and their classes are very engaging. For example, Dr. Edward Strimlan knows I am interested in physical therapy so he makes connections to that career field with the material he is teaching. Also, Dr. Laura Frost does an amazing job teaching biology, especially in the lab setting, and Dr. Mark Farrell is always super helpful to his students. The abilities of these professors to teach difficult subjects and make them applicable to research or a trade provides students with a rare but vital benefit.
How do you effectively balance your time as a student-athlete?
I've always played sports so I learned how to manage my time since I was about 10 years old. To me, time management is all about working hard and planning my schedule ahead. It probably helps that I'm a morning person, too.
What's next for you?
Over the holiday break, I plan to volunteer at Progressive Physical Therapy in Cumberland, Md. Overall, my career goals are to attend grad school, earn a doctorate in physical therapy and work in a clinical environment. I'm definitely focused on sports medicine but would also like to check out other areas in physical therapy such as women's health and pediatrics.
More About: biology, premed, Honors Program, student athletes, natural sciences, Allegany High School