more news
Students Enhance Resumes Planning For Project Children LEAD Conference
Tuesday, June 14, 2011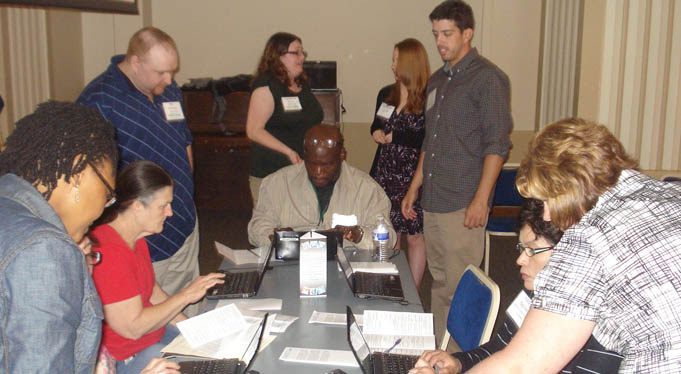 Point Park students assist conference attendees with various social media applications.

More than 15 undergraduate and graduate students from a variety of majors planned and assisted with Point Park's Project Children LEAD (Learning Early to Appreciate Diversity) sixth annual conference for educators and administrators.
This year's conference focused on "engaging diverse learners through online instruction" and featured keynote speaker Lenny Schad, chief information officer at Kay Independent School District in Texas. During the conference, participants had the opportunity to engage in Facebook, LinkedIn, Twitter, ADrive and Second Life at a social media lounge hosted by the Social Media and Related Technology (SMART) Team.
"All of the students did a fabulous job and gained a wide variety of experience that will help build their resumes," said Vincenne Revilla Beltrán, Ph.D., Point Park education professor and founder/director of Project Children LEAD. "This year went really well. We received our best evaluation scores ever from attendees."
According to Revilla Beltrán, the students who helped with the conference are pursuing a range of career fields-from event planning and information technology to education and marketing communications.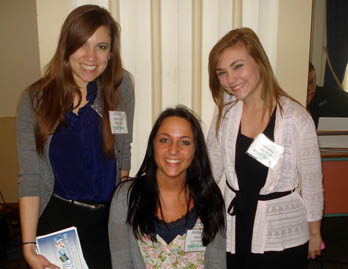 Point Park students pictured left to right are Jessica
Heinrichs, Kiley Amiralai and Katie Ramaley.

Bill Whitfield, an alumnus of Point Park's curriculum and instruction graduate program, helped conference attendees learn how free web-based applications-such as Google Docs and Prezi-can be used as tools for teaching. "Social media and other technology will continue to be very relevant tools for teaching in the classroom," said Whitfield.
Throughout the conference, advertising and public relations majors Jessica Heinrichs, Kiley Amiralai and Katie Ramaley posted updates on Project Children LEAD's Facebook and Twitter pages. They enjoyed the experience and skills they gained in event planning, media relations and social media.

"This year most of our communication went paperless. We reached out to people primarily through email blasts and social media," said Heinrichs.
Vincenne Revilla Beltran, founder of Project Children
LEAD, joins Karen Hall, director of E-Learning.

For Amiralai, her work with the conference helped her land an internship this summer with A for the People Insurance Agency, Inc., where she will be doing grant writing.
"Assisting with the LEAD conference was a great experience for me," said Ryan Streno, a graduate student in the curriculum and instruction program. "As a member of the SMART team, I helped participants get a better understanding of how social media can be incorporated into the classroom as a teaching tool. Overall, it was exciting to see the amount of effort being put into making education more accessible for students through technology."
Photos by Zee Ann Poerio