more news
Students From Norwin School District Process Mock Crime Scenes at CSI House
Wednesday, May 7, 2014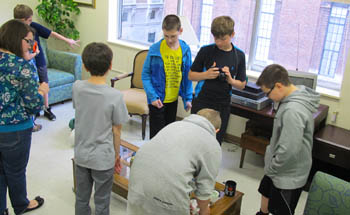 After learning about Point Park's Crime Scene Investigation House, Paula Giran, a teacher at Norwin School District, decided a visit to the University would fit perfectly with the forensic science lessons she was teaching to her fifth-and sixth-grade students as part of the school's STEM (science, technology, engineering and mathematics) curriculum.
"I chose Point Park because it was exactly what I was looking for. I wanted my students to experience a hands-on activity in which they could make connections between what they did in the classroom and what goes on in the real world," explained Giran.
During their visit, Edward Strimlan, M.D., assistant professor and coordinator of the forensic science program at Point Park, guided the Norwin students in processing living room and bedroom crime scenes.
"Since they already had knowledge in DNA, fingerprints and ballistics, I wanted to widen their education by showing them how crime scenes are processed and how evidence is collected," said Strimlan.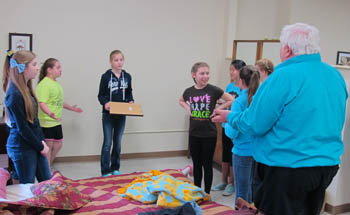 Throughout the day, the students examined evidence, took photos and measured the distance from the weapon to the victims.
"I learned to be patient while collecting evidence and not to touch anything in the room until you take photos," said Ceci Fidler, a sixth grade student.
The Norwin students also had the opportunity to meet with some of Point Park's forensic science majors and ask them questions about the program.
"It allowed them to see where they may be in a few years," remarked Strimlan.
According to Giran, on the bus ride home, the Norwin students were still excitedly talking about the pieces of evidence they discovered and continuing to analyze how the crime was committed.
"It was fun and different than I thought it would be. I didn't realize how precise you have to be when processing crime scenes," said sixth-grade student Garrett Senchur.
Learn More
Explore the majors offered in the Department of Criminal Justice and Intelligence Studies. In addition, Point Park's forensic science program is hosting a CSI Summer Camp for high schools students, July 15-18, 2014.
More About: STEM students, CSI house, faculty, forensic science, high school programs