more news
Students present original projects at humanities symposium
Monday, May 3, 2010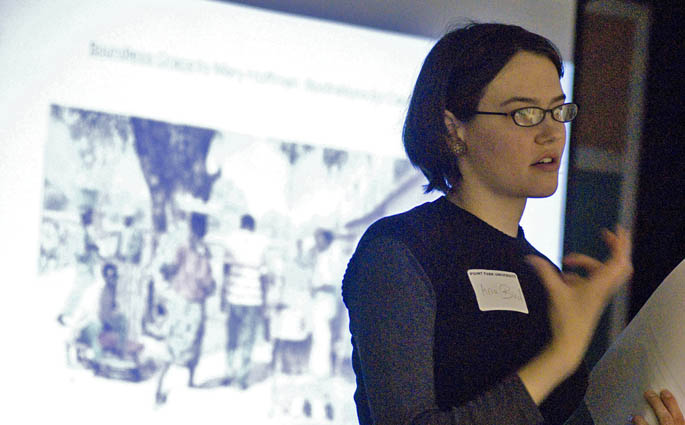 Above: Ana Bird, a senior majoring in global cultural studies, gives a presentation on her research project during the Undergraduate Humanities Symposium. Below: Jewell Bohlinger, a sophomore majoring in global cultural studies, describes her work for the symposium audience.
A number of Point Park University students prepared, presented and discussed original research projects for the University's first Undergraduate Humanities Symposium, held April 23 on campus. The event gave students a chance to display humanities-related work for their professors and peers, while being recognized for their academic work.
Held in the Lawrence Hall, the symposium offered a program of presentations and discussions, including two sessions of student panels moderated by University professors. Students gave presentations on their projects, then answered questions as professors added comments of their own.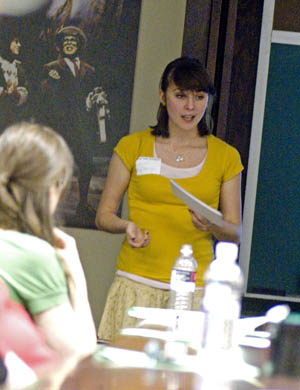 "An opportunity to present is really important in college," said Megan Ward, an assistant professor of English who coordinated the event with Robert McInerney, an assistant professor of psychology. "By taking their work seriously, we can show students their work is important."
The student projects and panels included creative writing, Victorian literature, global cultural studies, novels in world literature, phenomenology of love and loss, and interpersonal relations pertaining to discourse analyses and critical ethnographies.
Some students chose topics about which they had no prior knowledge.
"Considering I'm not a psychology major, I learned a lot about phenomenology. I did not know what it was before," said Katie McKown, a junior in human resources management who presented a project called "The Experience of Love in a Romantic Relationship."
"It's an to opportunity to network with other students, get feedback, and let them see what you are doing and get your hard work noticed," said Eric Vogan, a senior psychology major.
After the student panels, symposium participants enjoyed a buffet dinner in the ballroom, and listened to two keynote speakers. Lisa Cosgrove, an associate professor at the University of Massachusetts, debated the results of industry-driven research and financial aid on those working in health and medicine. Rachel Smith, an assistant professor at Boston University, discussed characteristics of fiction related to the Sept. 11 terrorist attacks.
"You get practice in public speaking. You get to research a project and learn everything about it," said Ayla Pison, a senior psychology major.
Students left the symposium with valuable experience.
Ian Sulkowski, a freshman majoring in English and creative writing, said the symposium offered benefits for students and demonstrated that Point Park University is becoming increasingly diversified in its curriculum.
"It's an opportunity to present your work to your peers like you would in graduate school," Sulkowski said. "It's an opportunity to exercise the mind outside of what you're expected to do."
Related links
School of Arts and Sciences
Department of Humanities and Human Sciences
Article by Nicole Chynoweth, freshman majoring in print journalism