more news
Students Present Research Related to the Seven Deadly Sins at Undergraduate Symposium
Thursday, April 28, 2016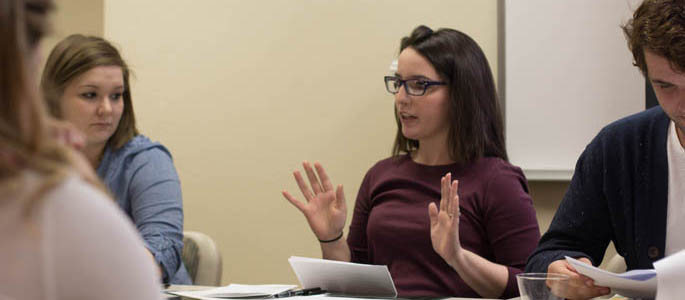 Students across many different majors throughout the University presented research surrounding the wonders of pride, greed, lust, envy, gluttony, wrath and sloth this year at the Annual Undergraduate Symposium.
Hosted by the Department of Literary Arts, the April 15 symposium centered on the theme of the "Seven Deadly Sins."
"Our theme of the 'Seven Deadly Sins' helped bring together a number of exciting interdisciplinary projects around a single point of focus and led to many lively discussions," explained Barbara Barrow, Ph.D., assistant professor of British literature and coordinator of the literature program.
Barrow added: "It was a fantastic opportunity to get to see the students' different projects and learn more about the research and creative thinking happening on our campus."
Student projects ranged from short films and poems to literature and media analyses related to topics such as lust in Anime, greed in The Hunger Games and sloth in Netflix viewers.
Ta'Sey Harmon, a sophomore broadcast reporting major, presented "Greed Within Sports" at the student panel session focused on greed.
"So many people gave me feedback and were so engaged in my topic. It was interesting to study today's greed in college and professional sports," explained Harmon.
New this year, the symposium featured senior creative writing majors Zachary Borzovoy and Jacob Mullins, who were elected as the keynote speakers, and read some of their original fiction and poetry writings.
"Zach identifies as a fiction writer and Jacob as a poet. Their presentations were a real display of the range of work our department and students produce," remarked Karen Dwyer, Ph.D., associate professor of English and coordinator of the creative writing program.
Jessica McCort, Ph.D., assistant professor of composition and rhetoric and coordinator of the writing intensive program, added: "It was a great day for building a sense of community among the students in the Department of Literary Arts and beyond."




Photos by Jakob Como, senior multimedia major and Victoria A. Mikula, junior
mass communication major
More About: research, creative writing, faculty, Department of Literary Arts, student presentations, English, symposium, School of Arts and Sciences