more news
Third Annual Humanities Symposium Featured a Wide Variety of Original Student Research
Tuesday, May 8, 2012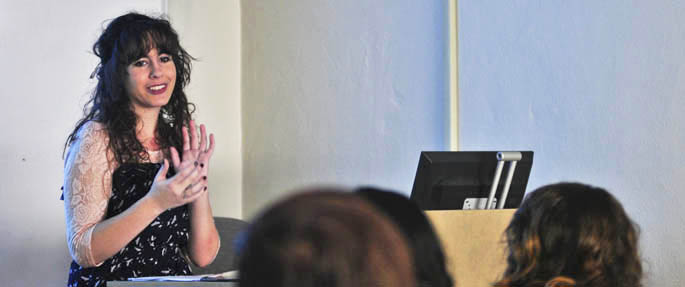 From the personal politics of veiling to a theoretical look at poverty in American Literature, Point Park students presented original research posters, readings, and panel sessions on a wide range of topics at the Third Annual Undergraduate Humanities Symposium held April 20 on campus.
"The Humanities Symposium was almost definitely the best day of my entire college career," said Andrew Woehrel, a senior English/creative writing major whose thesis was titled "e.e. cummings: avant-p-o-e-t/crazyman or conservative poet/normalman?"
Point Park humanities professors Jehnie Reis, Ph.D., Karen Dwyer, Ph.D., Dwight Hines, Ph.D., P.K. Weston, Ph.D., Megan Ward, Ph.D., Brent Robbins, Ph.D., Bob Ross, Ph.D., and Bob Alexander, Ph.D., moderated more than 50 student panel sessions which fell under the following areas:
The Road to World War II
The Ins and Outs of Workshop
Modernity, Capitalism, Colonialism: A Survey of the World
Poverty in American Literature, 1865 - Present: A Theoretical Approach
Veiling and the West
Senior Theses in Literary Studies
Form and Content
The Experience of Joy: A Phenomenological Study
Senior Theses in Creative Writing
The Personal Politics of Veiling
The State, Capital, and Religion: Problems in the Social Sciences
Where Do I Start?: Early College Research
The student research posters also addressed a variety of topics including "Retail Therapy," "The Experience of Grief," "Identity Development and the Coming Out Process," and "The Phenomenological Experience of Envy."
According to Megan Ward, Ph.D., assistant professor of English, this year's symposium featured "really fresh, creative work" including three new history panels. "As always, I was impressed and delighted by the work that students at Point Park are doing," said Ward. "Also, our keynote presentation by poets Terrance Hayes and Yona Harvey was a thought-provoking look at the relationship between art and place. Students seemed inspired by Hayes and Harvey's vision of being an artist in Pittsburgh."

"The Humanities Symposium was a wonderful opportunity to share work and see the amazing minds of fellow students. I am so amazed by all the brilliant minds at Point Park," said Isabella Alexandratos, a junior English major, who presented "Armor and Bustles: The Feminine Politics in Victorian Medievalism."

Tiffany Lewis, a senior behavioral sciences major, enjoyed the interaction between faculty and students at the symposium. "It's been very informative to talk with faculty and see what other research students are doing," explained Lewis, whose research poster is titled "Intimate Partner Violence: Females as the Perpetrators."

Students who presented research posters will showcase their final research results at the senior seminar in August.
For more information about majors offered in the Department of Humanities and Human Sciences, visit the department's landing page.
More About: Department of Humanities and Human Sciences, research, student presentations