more news
Undergrad Students Present Wide Range of Research Topics at 2014 HHS Symposium
Tuesday, May 6, 2014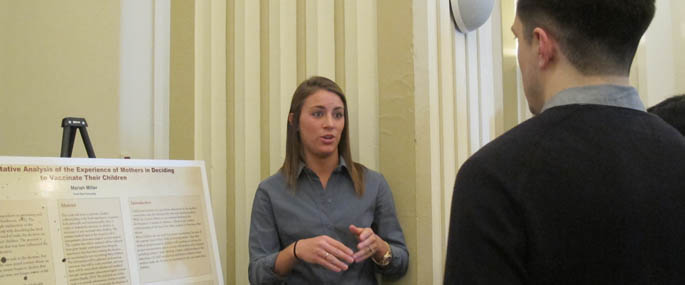 Psychology student Mariah Miller discusses her research proposal on "The Experience of Mothers and their Decisions to Vaccinate their Children."

Undergraduate students at Point Park University's Fifth Annual Humanities and Human Sciences Symposium presented research and creative readings on an impressive range of topics — from Victorian environmental issues to gay identity to experiencing Pittsburgh geography.
This year's symposium kicked off with students presenting poster displays and digital exhibits of their research proposals.

Transfer student and senior psychology major Byron Gramby's research proposal was titled: "A Nation Combined: The Experience of Being a Mixed Race Individual and the Process of Identity Formation."
"The professors have been amazing and are very knowledgeable," said Gramby. "It has been an enlightening experience."
Senior behavioral science major Tira Brown also praised Point Park's faculty. "I love the professors and diversity at Point Park. I also like the small classroom sizes and convenient class schedules," she remarked. Brown's research proposal is on "Media Stereotypes of African-American Women: A Phenomenological Analysis."
Following the poster and digital exhibit session, Don Mitchell, Ph.D., distinguished professor of geography at Syracuse University, gave the keynote presentation based on his extensive research on the political uses of public space. His talk was titled: "The Promise and Danger of Public Space: Three Struggles for the Right to the City."
"I thought his analysis was pertinent to Pittsburgh's public spaces, as well. It made me think differently about the implications of commercialized sidewalk space, in particular," said Megan Ward, Ph.D., assistant professor of English.
After Mitchell's keynote presentation, student panel sessions, moderated by Department of Humanities and Human Sciences faculty members Robert Alexander, Ph.D., Karen Dwyer, Ph.D., Kirstin Hanley, Ph.D., Jehnie Reis, Ph.D., Robert Ross, Ph.D., Sarah Perrier, Ph.D. and Megan Ward, Ph.D., took place throughout Academic Hall.
This year's panel topics were:
Adventures in Marxism
Challenging Canonicity: Subverting the Norms of Literary Tradition
Creative Writing and Visual Art
Experience and Experimentation
Evolution of Gender
Gender and Sexuality in Global Cultural Studies
Global Feminisms: Re-presenting (Post)Modern Womanhood
Historical Politics of Conflict and Change
Poetry: Vision and Revision
Reading: Creative Writing
Re-envisioning Jane Austen: Novel Interpretations of Pride and Prejudice and Sense and Sensibility
Responses to Social Problems
Retelling History and Analyzing Identity
Revisiting the Classics: New Perspectives on British Literature
The symposium wrapped up with a live music show on campus and a networking reception with representatives from local community organizations including Pittsburgh Action Against Rape, Operation Safety Net and Strong Women Strong Girls.
More About: behavioral sciences, psychology, Department of Humanities and Human Sciences, faculty, research, student presentations, symposium