more news
Undergraduate Students Encourage Social and Political Change Through Symposium Presentations
Tuesday, April 24, 2018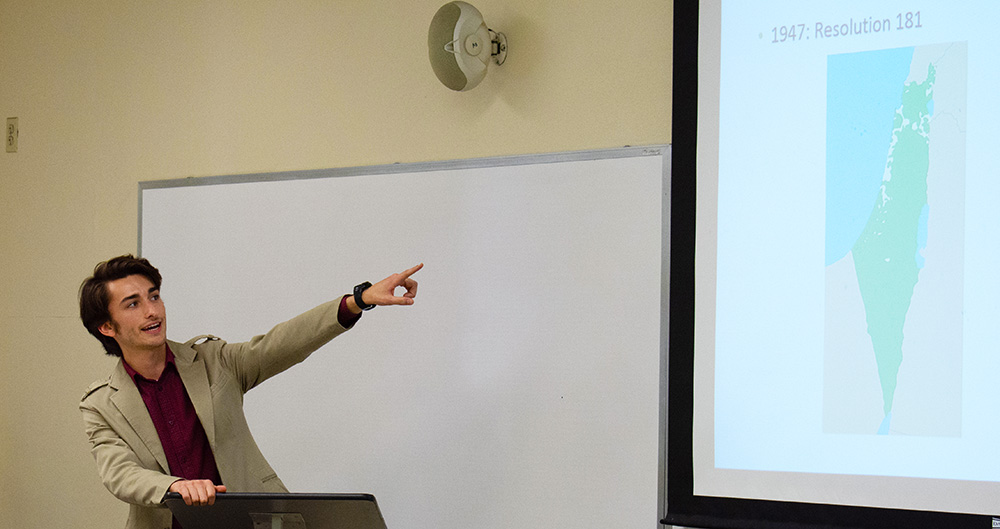 Point Park University students presented their academic work as a vehicle for social and political change at the Ninth Annual Undergraduate Interdisciplinary Symposium hosted by the Department of Literary Arts and led by Associate Professor Kirstin Hanley, Ph.D., and Senior Capstone students Alexa Kennedy, Kidde Kokole, Azurai Phillips and Emma Torell.
The event was sponsored by the Center for Media Innovation and Assistant Provost Jonas Prida, Ph.D.
The symposium's theme was "Counter (F)acts," which featured various student panels and presentations on topics such as "Writer's Block TV," "Shakespeare and The Other," "What We Should be Learning in Schools, but Aren't," and short fiction stories on gender, new media, friendship, race, womanhood and more. 
During her keynote presentation "Works Uncited: Tracing Revolution from the Edges of the Archive," Shalini Puri, Ph.D., author and professor for the Department of English at the University of Pittsburgh, advised students who strive to be literary scholars to focus on conversation — rather than criticism — with sensitivity and tact.
"I learned from Dr. Puri the importance of literary conversation versus literary criticism. Criticism holds negative connotations so by presenting it as a conversation we open the door to greater understanding. This was something that took place throughout all of the symposium's panels and presentations," said Phillips, a senior English major from Barack Obama Academy in Pittsburgh, Pa., who presented "Shakespeare and The Other."
"The event allowed me to see why what we study is relevant in the critical conversations of the world. Engaging with parents and professors who attended gave me a lot of perspective on why studying these topics is so important," Phillips added.
Kokole, a senior English major from Central Dauphin High School in Harrisburg, Pa., said: "No matter how well organized or prepared you try to be, there will always be some hiccups. However, if you can rise to the challenge, finding solutions is half the fun. The other half comes from planning and collaborating with others."
"I learned that it's okay to branch out and create new concepts, and to rely on faculty and different departments to see your vision through," added Kokoke, who presented on "Writer's Block TV" and "What We Should be Learning in Schools, but Aren't."
Danielle Pendzich, a senior creative writing major from Northgate High School in Pittsburgh, Pa., was involved in the symposium in three different areas. She presented her three strongest poems from her creative portfolio and then served as a panelist for the sessions "King vs. Kubrick's The Shining in Fiction and Film" and "Faulkner and Morrison: Whose Story is it, Anyway?"
Pendzich added: "Every year I have learned that I do not need to be afraid to present because everyone is there to encourage you. I always enjoy learning about the different perspectives my classmates have on the same texts. As a student, this event is a good resume builder and as a creative writer who might one day present my own works, it's good practice."
Text and photos by Brandy Richey, junior multimedia major
More About: symposium, research, Department of Literary Arts, Center for Media Innovation, School of Arts and Sciences, creative writing, Pittsburgh Public Schools, student presentations, Northgate High School, English