more news
$1 Million Gift to Point Park University to Fund Urban Accounting Initiative
Monday, August 22, 2011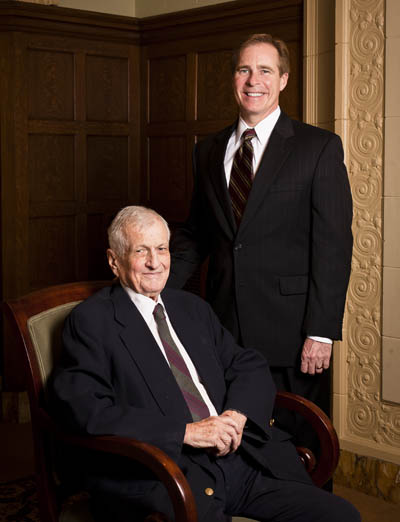 George White (left) and Paul Hennigan, president of Point Park University
Point Park University announces today a $1 million gift to its School of Business to establish an endowed professorship in Accounting and Finance and to fund the Urban Accounting Initiative, an effort to increase awareness of careers in accounting and finance among minority youth.
The gift comes from longtime Point Park benefactors George and Kathleen White who have established the George Rowland White Endowed Professor of Accounting and Finance at Point Park University's School of Business with a bequest through their estate plan.
"This generous gift and endowed professorship will make it possible for the School of Business to establish a leadership role among community and business leaders that will positively impact the career paths of our region's minority youth," said Paul Hennigan, president of Point Park University.

Studies have shown that there has been declining enrollment and interest among minorities in finance and accounting as a profession over the past decade, according to Hennigan. Yet the U.S. Bureau of Labor has identified accounting as one of the fastest growing professions, largely due to industry and regulatory concerns over financial accuracy, transparency and reliability.
One of the first projects of the Urban Accounting Initiative will be collaboration with the Manchester Academic Charter School. Middle school-age students will explore careers in accounting and finance through programming, special events and mentorship. The effort will be led by educator and civic leader Herman L. Reid Jr., Ed.D., who served for three decades as the executive director of the Negro Educational Emergency Fund (NEED) in Pittsburgh.
"This program is aimed at building pathways to careers in accounting or finance that many minority youth may never have considered before," said Reid. "We hope that with this program students will begin to see the connection between real world experience, their academic life and a future career."
The Whites, who are committed to the economic and cultural vitality of the city and the campus, have previously provided support for such projects as the George Rowland White Performance Studio in the Dance Complex on the Boulevard of the Allies and the GRW Theater in the University Center. White is a former Xerox executive who has a Ph.D. in nuclear physics and served on the faculty of the Harvard School of Business. His wife Kathleen was among the first female students to earn an engineering degree at Purdue University.