more news
National Winners: Point Park Students Awarded $5,000 for First Place Finish in GfK NextGen Data Science Competition
Tuesday, April 14, 2020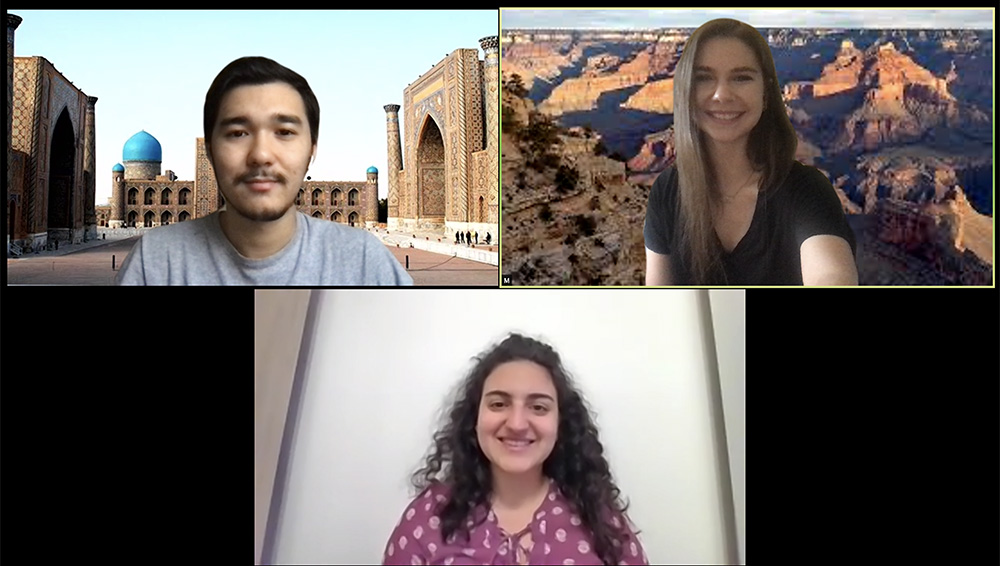 Top row: Ibrokhim Mirzakhonov and Emily VanderMey
Bottom row: Sabrina Tatalias 
"I know I made the right decision choosing Point Park University due to the career opportunities that are available. I feel very prepared upon my graduation due to these opportunities that Point Park, along with my professors, have been able to provide me through hands-on learning."
Sabrina Tatalias, junior information technology major
A team of undergraduate students from Point Park University won the national 2020 GfK NextGen Data Science Hackathon Competition, earning a cash award of $5,000.
For the competition, GfK challenged students to develop strategic recommendations for a new theoretical smart car product that would leverage digital technology.
Based on current worldwide concerns about viruses like COVID-19 — as well as other airborne diseases and pollutants — Ibrokhim Mirzakhonov, Sabrina Tatalias and Emily VanderMey developed a product that would use HEPA air filtration and ultraviolet light to help eliminate allergies, diseases and impurities inside of cars. 
"As a team, we saw the need to improve the overall hygienic aspect of cars. With all that is going on today, people want to protect and prevent their families from harmful outbreaks and pollution," said Mirzakhonov, a senior information technology major, graduate of Brashear High School in Pittsburgh and native of Tashkent, Uzbekistan. 
"Our idea, SAPS (Surface & Air Purification System) addresses the health and safety concerns amidst the coronavirus pandemic. We often spend a lot of time inside a vehicle so we came up with a system that would essentially be a HEPA air purification filter on the AC unit of a car that is integrated with Far-UVC light technology to kill and prevent viruses and bacteria," explained Tatalias, a junior information technology from Bethel Park Senior High School in Bethel Park, Pa.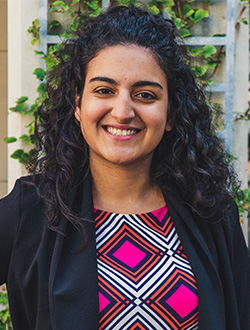 "Far-UVC is really neat because it is able to kill viruses, bacteria and superbugs without hurting human skin and eyes like other UVC rays. A big part of the competition was to use the data provided to support our technology. We were able to find a lot of data that showed people are concerned about pollution and the safety of their families," added VanderMey, a senior multimedia major from Elizabethtown Area High School in Elizabethtown, Pa. 
The four finalist teams in the competition virtually presented their proposals to a panel of judges made up of GfK data science experts and three GfK clients from major auto manufacturers.
Students were assessed on a variety of criteria, focusing both on data skills and business intelligence, with Point Park's team delivering the strongest combination of specific recommendations, clear data support and presentation skills.
"We were unable to meet in person as a team, but this did not stop us! We were able to meet via Zoom and Slack on a day-to-day basis and work together very effectively. Our team also contributed with us each having different skill sets that were an asset in terms of presentation design, research, analytical thinking and marketing in order to bring the idea and project full circle," Tatalias said.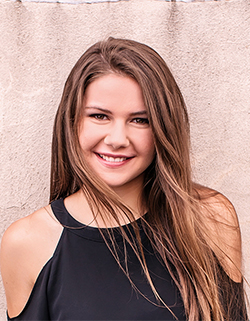 The competition's second place team were students from California State Polytechnic University (Pomona), who proposed a car safety product supported by Google data streams.
"This competition is the kind of experience in which we want to encourage student participation because it promotes career-readiness. The design of the competition reflects the role of market researchers, encouraging students to merge analytics, environmental scanning and creative problem solving to develop data-driven solutions. Our Point Park students are truly impressive, demonstrating not only their talent, but also their resilience, excelling in this virtual competition while navigating significant changes to their own environment as a result of the global pandemic," said Dorene Ciletti, Ph.D., associate professor of marketing and sales.
Ciletti served as a mentor for the students, along with Mark Voortman, Ph.D., assistant professor and director of Point Park's IT program.
"Interaction design is much more based in research and data analysis so this project was a great primer into the work I will be doing in the future. As a design major, I was afraid I wouldn't fit in with the information technology community, but my IT professors, Mark Voortman and Jeff Seaman, trusted me with leadership roles, have supported me in my transition to grad school and have held me to the same standard as full-time IT students," VanderMey said.
"Point Park has been a great experience so far. I've gotten to work on many hands-on projects with my professors and friends. I'm very happy with the way our professors push us to be our best while guiding us through projects," Mirzakhonov said.
Tatalias added: "I know I made the right decision choosing Point Park University due to the career opportunities that are available. I feel very prepared upon my graduation due to these opportunities that Point Park, along with my professors, have been able to provide me through hands-on learning."
More About: Pittsburgh Brashear High School, international, marketing and sales, Pittsburgh Public Schools, student competition, Rowland School of Business, School of Communication, Bethel Park Senior High School, student presentations, information technology, multimedia