more news
Accelerated Business program a perfect fit for juggling work, college
Thursday, October 28, 2010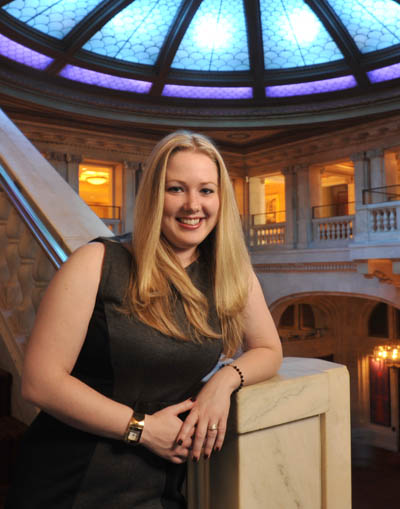 Marcy Byrne knew what she wanted - a business degree that would further her knowledge and her career without taking years to attain. She found it in Point Park's accelerated business program.
"I had an associate's degree in accounting and was working at the Omni William Penn Hotel," explains Byrne. She had already been accepted into the accounting program at another local university when she heard a co-worker talking about the Saturday program offered by the School of Business. His description intrigued her.
Once Byrne looked at Point Park's location (she and her husband live in Greentree, so the Downtown campus made perfect sense), cost, and class schedule, she knew the program would be a better fit to earn her bachelor's degree.
"Being an adult and working full time and going back to school, I didn't want it to take four or six years taking a couple of classes here or there," says Byrne. "I just wanted to get through and get it done."
"The accelerated business program is different from your traditional degree because your classes are prescheduled. It is really clear cut," she explains.
"Every class is designed in a specific sequence and students take them together in a 7-week accelerated format on Saturdays," says Assistant Professor Michele Langbein, Ph.D., and director of the program. "Students go through the program as a cohort, so they're with the same group of people throughout the two years."
For Byrne, the Saturday class format has worked very well.
"Getting up on Saturday morning, I am fresh and ready to go to school versus having to go at night when I am already exhausted after working all day," she says.
"I love the small class size because we're all friends," Byrne adds. "We all know each other, are all comfortable around each other. It really is a good format for discussion. And because it's so small, everyone's focused."
Langbein acknowledges that the accelerated business program takes "dedicated students who can multi-task because, like Marcy, many of our students are adults who are working full time, some of them are balancing career life, family life, and school life."
Byrne will graduate in December - with an impressive 3.95 GPA.
And she has more reason to celebrate. Recently, she accepted a new position as the assistant controller at the Renaissance Pittsburgh Hotel, chosen from dozens of applicants. "I don't think I would have had this opportunity so early in my career without being near completion of my bachelor's degree," she says. "It definitely helped me stand out from the pack."
Byrne also believes the workplace skills she has learned at Point Park helped to set her apart.
"I definitely feel like there was some sort of extra edge that I had - all the public speaking we do at Point Park, all the presentations, they have really helped my communications skills," she says.
"Marcy is one of our students who just excels in every class," Langbein says. "She is definitely a leader, loves the challenge, is optimistic about everything. Our hope is that our students are able to use the skills that they've learned here and apply for either promotion or expand to other jobs."