more news
Accelerated business program fits busy professional's schedule
Monday, April 12, 2010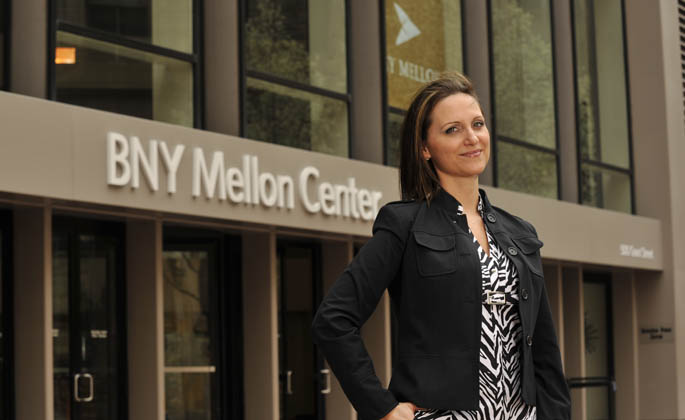 Jennifer Patterson completed a bachelor's degree in business at Point Park University while working full time at BNY Mellon. Three months later she received a promotion.
Jennifer Patterson is a busy person. She works full time in Asset Servicing with BNY Mellon, and she partners in a construction business with her husband. She also cares for two daughters, ages 17 and 5, and has taught an indoor cycling course. Yet there was never a question in Patterson's mind that she would also pursue her educational goals and complete a bachelor of science in business from Point Park University.
Using the University's accelerated business program, Patterson earned the degree she wanted - and later a promotion in her career.
"The program was a good fit for my business and personal life," says Patterson of the two-year completion program in which a student can earn a bachelor's degree in business at the Downtown campus.
Patterson, who lives in Stowe, had been working for BNY Mellon and the former Mellon Financial Corporation for more than five years when she began the accelerated program at Point Park's Downtown campus in January 2008. She had worked her way up from a manager to a client relationship manager responsible for overseeing several benefit payment specialists. But she knew new challenges lay ahead.
"I wanted to better myself in my career and I needed the degree to do that," she says. She quickly discovered that her coursework had a direct impact on her job.
"I found I was taking what I learned on Saturday and using it on Monday," she says. And having a family business, Patterson was able to bring to the classroom work examples from the construction industry. It was a win-win situation, she says.
Completing her degree as an adult brought added benefits. "I certainly appreciated my education more being a professional," she says. Patterson graduated in December 2009 with a 3.86 grade point average and in March obtained a promotion and new position at BNY Mellon. As a unit manager with a vice president title, she is now responsible for managing benefit disbursement operations and overseeing multiple managers and staff.
Her boss, Don Bobeck, says Patterson is one of his strongest managers, someone he can call on as backup when he is out of the office. "I have confidence in her ability to make the right decisions," he says. She leads by example, he adds, one of the many traits developed during her years with the department and the time gaining her business degree.
Patterson says BNY Mellon's tuition assistance, Point Park's affordable tuition rates and the flexible class scheduling provided exactly what she needed to complete her degree.
"Jennifer did an excellent job of managing her job, family business, family and school," says Michele Langbein, Ph.D., assistant professor and director of the accelerated program in the School of Business.
"The accelerated business program requires a significant investment in time and effort, but the outcome allows individuals, like Jennifer, to earn a bachelor's degree and achieve their career objectives."