more news
Accounting and SAEM Double Major Lands Job at PricewaterhouseCoopers
Monday, January 30, 2012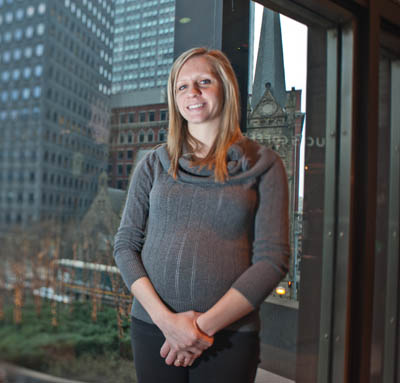 Meet Katie Mehall
Job title: Tax Associate
Employer: PriceWaterhouseCoopers
Majors: Accounting and Sport, Arts and Entertainment Management
Degrees earned: Bachelor of Science in accounting and SAEM
Graduation year: 2008
Hometown: Summerhill, Pa.
Now living in: Pittsburgh, Pa.
Why did you decide to double major in accounting and sport, arts and entertainment management?
I began college as an SAEM major but as I progressed I felt capable of majoring in an additional field. I chose accounting because I found an interest through the accounting courses I was taking. Also, when talking with my professors and advisers, accounting appeared to be a good field to get into because of the availability of jobs.
How did you land your job with PricewaterhouseCoopers?
Prior to PwC, I was working as a mutual fund accountant at PNC in the global investment services department. I found out that the mutual funds we maintained in Pittsburgh were being moved back to the home office out-of-state and our department was closing. PNC made many job opportunities in other departments available to us, but I decided to look outside of PNC. I found an open position at PwC, and having wanted to work in public accounting since graduating, I decided to apply for the job. After a few interviews, I was offered the job in the wealth management tax services department. The closing of the department at PNC was a disappointment, especially because it was my first job, but it turned out to be good timing and led to a great job opportunity with PwC.
What are your key responsibilities as a tax associate?
I work with major bank clients to prepare the tax returns for trusts, estates and foundations. My key responsibilities include, firstly, completing the tax returns. We have a very large volume of returns that need to be completed in a short period of time, so a lot of preparation and organization needs to take place for everything to flow smoothly. We also do a lot of maintenance throughout the year to stay on top of the massive volume of work that we have to manage. My job involves a lot of communication with our bank clients, answering specific tax questions they have and helping them understand the numbers that are reflected on the tax returns and tax letters of the beneficiaries.
What are some common misperceptions about the field of accounting?
I think people sometimes view accounting as a boring field. However, the field branches to so many different areas and career possibilities that people may be surprised to see that they could find an area that interests them. Even in the tax world of accounting where I work, there are so many different areas to get into such as corporate tax, trust taxation, sales and use tax, state and local tax, government taxation, etc. Accounting is often looked at as a cubicle job but there are many areas where you can interact with customers, travel and work remotely.
What are your future career goals?
I am currently pregnant with my first child, so I have been carefully thinking about what I would like to do with my career in the future. What's great about the accounting is the flexibility of jobs it offers. It is a field where you can easily work part time. I definitely want to stay in the accounting field, possibly doing something more along the lines of bookkeeping or small business. I enjoy taxes, so I am considering working part time for a smaller tax practice in the future. There are so many different areas I could move into with an accounting degree that the possibilities seem endless.
What advice do you have for individuals who are considering double majoring?
It's definitely a challenge to double major. You have to take extra classes every semester, which can be demanding, especially when everyone would like an easier load their senior year. However, the benefits of obtaining a double major are worth the extra work. The major that I chose second turned out to be the field that I work in now. A double major gives you the possibility of additional job options and with this struggling economy, you are going to need all of the options you can get.
What was your favorite experience at Point Park?
My favorite experience at Point Park was playing softball. Being part of a team is always a great way to build friendships and relationships. I enjoy thinking back on all of the fun we had and the hard work we did to improve over the four years I was there. It was a really great time.