more news
Alum Profile: Jenniffer Burke, Big Brothers Big Sisters
Friday, July 1, 2011

Meet Jenniffer Burke
Majors and degrees earned: B.A. in journalism and public relations news writing, The Ohio State University; M.A. in organizational leadership, Point Park University
Hometown: Warren, Ohio
Now living in: East suburbs of Pittsburgh
Occupation and current employer: Vice President of Development, Big Brothers Big Sisters of Greater Pittsburgh
What inspired you to work for Big Brothers Big Sisters?
I love our mission which is to provide children facing adversity with strong and enduring, professionally supported one-to-one relationships that change their lives for the better - forever. Our vision is to make a difference and help someone fulfill their potential and achieve success in life. Wow! That gives me chill bumps every time I think of it. The commitment of our board, volunteers, supporters and staff is exceptional. They truly embody our "Start Something" branding.
Related links
M.A. in organizational leadership
School of Business
Graduate admissions
Request information
How has your Master of Arts degree in organizational leadership helped you in your career?
It has helped me achieve career advancement while enhancing my leadership skills and ability to inspire others to work together. I also learned how to restructure and reanalyze situations as a leader and how to effectively work with volunteers and staff. This has helped me tremendously working at Big Brothers Big Sisters.
What was one of our favorite experiences at Point Park?
Working in groups often requires a lot of trust so I usually prefer to work on my own. However, working with other students in groups actually ended up being my favorite experience in the graduate program. I also enjoyed having class with people who worked in a variety of business backgrounds. Everyone looked at the same thing differently so I was always gaining new insights. Opening up in the group situations has allowed me to make new friends for life.
What was your favorite class?
"Leadership Theory and Practice" was probably my favorite. We learned that when leading others the first thing you should do is "encourage the heart."
What do you think makes a great leader?
Great leaders can see things from all perspectives. They also take the staff they have and accentuate their strengths while working with them on their challenges. They are not afraid to fail, because you can't achieve success without trying. Great leaders aren't afraid of the success of others and understand it's not about them. It's about the passion of your cause. They lead to inspire and lift up.
What are your future career goals?
The world is my oyster and I see my potential as unlimited. Given all that I've learned through the program and my past work experiences, it will probably be something working with youth and education.
Associate Professor Jamesena Talbott's comments on Jenniffer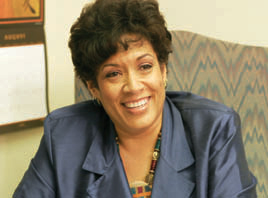 Jamesena Talbott, Ph.D., associate professor and
director of the M.A. in organizational leadership program.

"Jenniffer was a phenomenal student. She took advantage of the organizational leadership courses as havens for exploration. Her final project focused on volunteerism so it is no surprise to me that she is in the ultimate role serving as mentor and vice president of development for Big Brothers Big Sisters of Greater Pittsburgh. She is paying it forward. I look forward to collaborating with her on internship initiatives and program development."

About the Master of Arts in organizational leadership program
The Master of Arts in organizational leadership program offers students the opportunity to focus on an area of business that is important to them while sharpening their creativity, leadership intelligence and communication skills. Students can choose one of the following four concentrations: leadership development, community leadership, management and international studies or a self-designed concentration where students select approved graduate courses that interest them and fit within their career goals. Learn more about the program.