more news
Alumna Rachael Otieno Helps Launch Non-Profit in Kenya
Thursday, May 19, 2011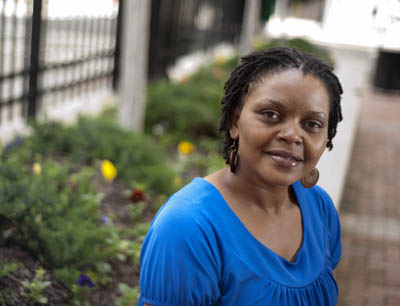 Alumna Rachael Otieno - who earned two master's degrees at Point Park - attributes the knowledge and skills she gained in both programs with helping her to launch a non-profit organization in her home country of Kenya.

"The courses I took in both programs richly prepared me with the tools I needed to operate and promote The Female Assistance Project," said Otieno, who earned an M.A. in curriculum and instruction in 2007 and an M.A. in organizational leadership in 2010. In 2000, she graduated from Kenyatta University in Kenya with a bachelor's degree in education.

The Female Assistance Project provides sanitary products and educational forums on feminine hygiene to preteen and teenage girls in Nairobi, Kenya on a monthly basis.

Through regular meetings on Skype, Otieno manages the volunteers on the ground in Kenya who are distributing supplies and educating the girls.
Related links
M.A. in Curriculum and Instruction
M.A. in Organizational Leadership
Graduate admissions
Request information
Otieno promotes and fundraises for The Female Assistant Project through a Facebook page, a website (in which she designed and maintains) and by giving presentations to various service organizations. Most recently, she received funding from the Rotary Club of Monroeville. The Female Assistance Project is also funded in part by the Farova Developmental Initiative, a non-profit organization aimed at helping youth in both the United States and Kenya.
"The idea to help launch a non-profit came from project proposals I presented to my peers in class," explained Otieno.
Helena Knörr, Ph.D., assistant professor of organizational leadership, encourages her students to develop project proposals that will be valuable and useful to them. "I tell my students 'this class is your training lab.'"
As an international student, Otieno chose Point Park for its small class sizes and urban location. "In my classes, I gained hands-on experience in team building, communication and networking," said Otieno.
Otieno also enjoyed serving in the leadership role of international student ambassador for the University, helping new students find their way around campus and Pittsburgh.
"With each class, I watched Rachael grow in confidence as a leader," said Knörr. "I was amazed by her strong work ethic, resiliency and optimism even during times of personal hardship."
Education Professor Vincenne Revilla Beltrán, Ed.D., who taught Otieno in the curriculum and instruction program, was also impressed with her positive attitude.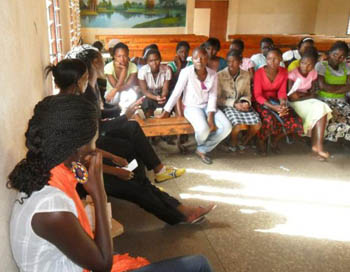 Girls in Nairobi, Kenya attend an educational forum hosted by
The Female Assistance Project.
"Rachael's gentle spirit radiated in the classroom. She served as a role model to her classmates," said Beltrán.
Earning degrees in the areas of education and business has helped Otieno see herself as both an educator and leader. "As an educator, my goal is to change minds and touch hearts. As a leader, my goal is to create positive change."
Currently, Otieno is a teacher at Point Park Children's School. However, this summer she plans to move to Indianapolis to study oncology nursing. "I am one of the many individuals who has been affected by cancer. Therefore, I am a strong advocate for a cancer-free world and a big supporter of the American Cancer Society," said Otieno.
Otieno recommends to current and prospective college students to blend course work with career goals whenever possible. "You never know when you could be writing a proposal that will someday change lives."