more news
Alumni Profile: Douglas Anderson, health care reform advocate
Monday, December 7, 2009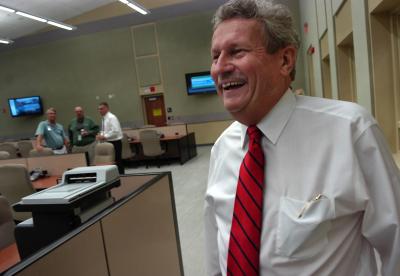 Point Park alumnus Douglas M. Anderson is in the unique position to be able to utilize his diverse career experiences and expertise to help our nation's citizens with some very timely issues: disaster preparedness and health care affordability.
Even before his retirement in January of 2009, Anderson was receiving offers to work with various organizations looking for his expertise. This prompted Anderson to start his own company, Douglas M. Anderson LLC, which has been contracted by the League of Cities to provide disaster preparedness training to public officials across the nation. He is also working with non-profit groups in Florida to build a health clinic in St. Lucie County for people without insurance. He is hoping the clinic will be a model for the nation.
After graduating from Point Park with a business management degree in 1970, Anderson began his career in manufacturing at AVM Corporation in his hometown of Jamestown, New York. In 1977, he became the director of fiscal affairs at Jamestown General Hospital, where he also oversaw hospital's outpatient clinic. Later he became the finance director for the city of Jamestown until 1990, when he moved to Florida and became the county administrator for Clay County, then St. Lucie County in 1995.
One of Anderson's greatest career challenges came during the course of the hurricane seasons of 2004 and 2005. As County Administrator, Anderson was responsible for coordinating emergency response in St. Lucie County. "Within three weeks of one another we had two direct hits (from hurricanes Frances and Jeanne) which brought the county to its knees," recalled Anderson. "It was a very trying time." One year later, the same area was hit hard again by Hurricane Wilma. The hurricanes caused massive flooding and power outages, requiring Anderson and his team to spend weeks cramped in the county's ill-equipped Emergency Operations Center in the midst of generally miserable conditions.
His leadership during that difficult period led the county to dedicate a new, state-of-the-art emergency operations center, named in his honor, in June of 2009. The Douglas M. Anderson Emergency Operations Center is four times the size of the old center and is home to the county's radiological, animal control, 911 and marine safety operations.
When Anderson reflects on his student years at Point Park, he fondly remembers the professors and classes that he says gave him his start. "I would have never, ever had this opportunity if it hadn't been for the education I received from Point Park," said Anderson. "What I learned there, I have never forgotten."
Article by Tammi Kaufman
Photo by Eric Hasert, Scripps Treasure Coast Newspapers