more news
SAEM Alumna Living Her Dream Working for Live Nation and the NHL
Alumni Profile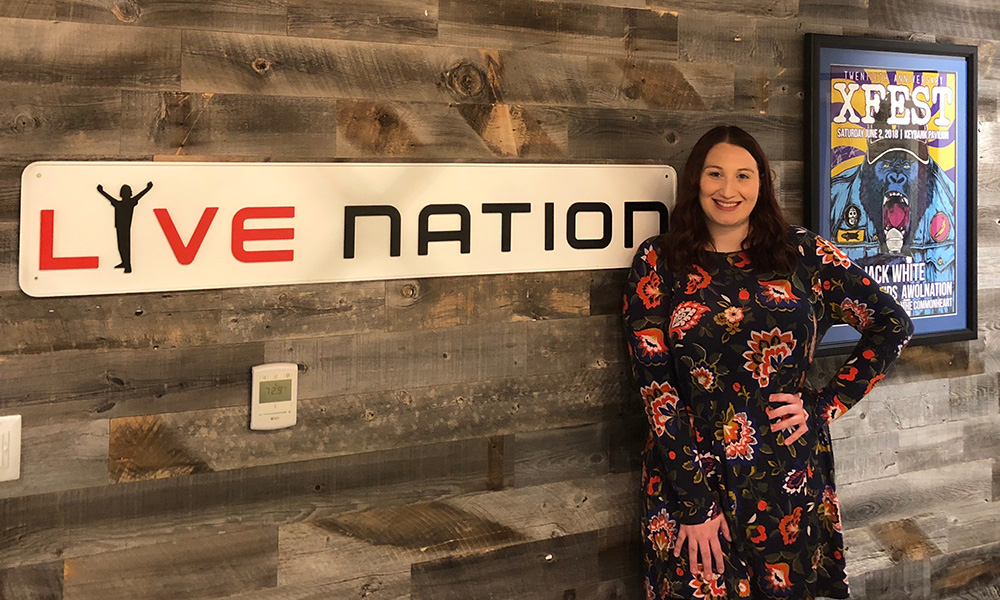 Meet Brittany Bishop
Job Title & Employer

Marketing Assistant, Live Nation Pittsburgh

Job Title & Employer

Live Social Contributor, National Hockey League

Major

Sports, Arts & Entertainment Management

Graduation

December 2017

College Activities

Her Campus Point Park, Pittsburgh Center for Sports Media and Marketing and SAEM Club

Scholarships

Trustee and Frank Sinatra

Hometown

Monaca, Pa.

High School

Central Valley High School

Now Living In

Pittsburgh, Pa.

Dream Job

I'm living my dream right now working for two companies I love at the same time right after graduation.

Hobbies & Interests

Concerts and hockey games ;-)
"A key factor in choosing Brittany was her ability to jump into challenges head on. She volunteered at Thrival Music X Arts Festival in 2017 doing social media and needed little coaching. She came to me with inspiring ideas on how to structure posts, basing them on what she was observing through a fan's perspective. Her content curation was polished and professional. Point Park University students are very active volunteers in the concert community, which helps them make connections with various promoters while boosting their familiarity with the inter-workings of the industry."
Morgan Nicholson, marketing manager, Live Nation Pittsburgh
"Having three internships and working on a variety of different assignments really helped me figure out my career path while in school. I did many different projects and papers on both sports and entertainment topics that helped me dig deeper into the business side of the industry."
Brittany Bishop
How did you land your positions with Live Nation and the NHL?
Both jobs came from having relationships built through internships. With the NHL, I interned for the Pittsburgh Penguins in fall of 2016 so they referred me to my current boss with the NHL.
With Live Nation, it was a combination of things. The summer after my freshman year, I worked at KeyBank Pavilion as a guest service ambassador. I also was asked to work Thrival Festival in 2017 (referred by a fellow Point Park student) and this is where I made more of a connection with my current boss, Morgan Nicholson. I took over Thrival's Snapchat story for the two-day event and helped escort the press in and out of the photo pit. When it came time to apply for jobs, Morgan actually reached out to me to let me know there was a marketing assistant position open in the office and said that she wanted me to apply!
Tell us about the work you do in both of those roles.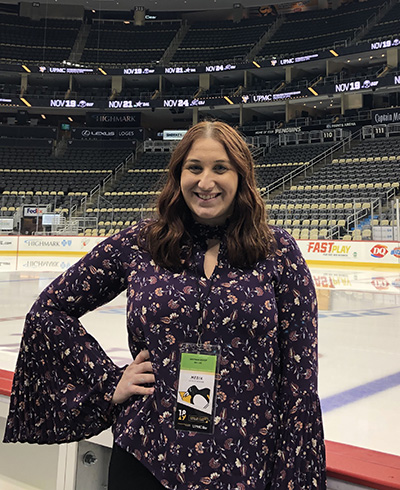 With both jobs, each day is different. In the sports, arts and entertainment management field, you are constantly working in a fast-paced environment and never know what is going to happen. For Live Nation, there is a lot of behind-the-scenes work going on before we can announce a show.
One of my main responsibilities is to post on social media about the amazing artists coming to Pittsburgh! I also create the email blasts that go out to Pittsburgh area concert goers. Other fun assignments I've had included delivering cakes around to the local radio stations for the Train and Goo Goo Dolls concert announcement and multiple scavenger hunts/ Q&A ticket giveaways. Having an open mind with any job will help you be successful. 
For the NHL, I help the Penguins and the visiting team on each game night get social media content happening in the arena. The social media personnel for many of the away teams do not travel, so they rely on the local LSC (live social contributor) to text them photos and videos of their fans in the enemy territory.
For example, I've run the Vancouver Canucks Snapchat, taken pre-game soccer shots of the Dallas Stars, on-ice warmup photos for the Buffalo Sabres and a lot of fan photos for the Toronto Maple Leafs. It's cool to produce new content for the away teams and see how they choose to run their social media accounts. For the Penguins, a lot of their social content is fan driven so I capture lots of shots of little kids with signs, people decked out in Penguins attire and post goal celebrations! Post game I help translate the players' audio to use as quotes for social media.
Follow Live Nation Pittsburgh and KeyBank Pavilion to stay up to date with all of the concerts coming in 2019!
How have your SAEM classes helped you as a sports/live entertainment management professional?
Having three internships and working on a variety of different assignments really helped me figure out my career path while in school. I did many different projects and papers on both sports and entertainment topics that helped me dig deeper into the business side of the industry.
Between sports and entertainment, I never really decided which direction I wanted to go and now I am working in both! Starting my sophomore year, I took six classes every semester and gained time management skills that help me now with juggling both jobs. Plus, I worked with different groups of people to complete various projects, which helped me learn how to interact with others to get something done efficiently. This is similar to what I do now with radio stations for Live Nation and the visiting teams with the NHL.
What are your favorite Point Park memories?
Living Downtown with my best friends for three and a half years will always be some of the best moments I've had at Point Park. Not many people get the chance to explore the city and all it has to offer with your friends on the daily. Interning for the Penguins and working the 2016 Stanley Cup banner raising game was a pretty awesome memory I have during my schooling as well.
I also loved meeting different executives that the Pittsburgh Center for Sports Media and Marketing brought to campus and having access to ask them anything during the student advisory board luncheons. I could go on and on about different opportunities I had at Point Park and my favorite memories, but we'd be here for awhile!
What advice do you have for our students interested in marketing and social media careers?
Take little gigs and make them your own. Help out a small company with their social media and grow their following and interactions and see where it takes you. Having a background in social media before you apply for an internship helps and shows you have the drive to grow and be successful.
Also, find a mentor who will help you along the way. I've have so many people who I am thankful for in my journey through college and post graduation. Stay in touch with your professors and mentors post graduation, too, because they will still help you network and put you in contact with their colleagues that you might not know about! The world is small and you never know who knows who, and chances are, they can put you in contact with someone at a sports team or management team.
Connect with Brittany Bishop
More About: Pittsburgh Penguins, success story, Downtown Pittsburgh, Center for Sports Media and Marketing, Central Valley High School, sports, arts and entertainment management, alumni, LiveNation, Rowland School of Business