more news
Business Faculty Present Scholarly Research at NABET Conference
Tuesday, January 3, 2017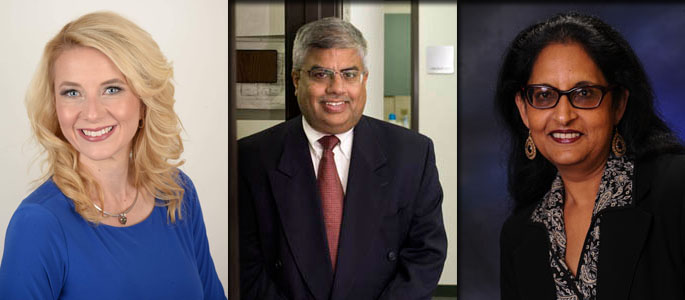 Left to right: School of Business faculty Michele Langbein, Ph.D., Archish Maharaja, Ed.D., and Gita Maharaja, Ed.D.

Point Park University School of Business faculty members Michele Langbein, Ph.D., associate professor of business management; Archish Maharaja, Ed.D., professor and director of the M.S. in health care administration and management program; and Gita Maharaja, Ed.D., part-time associate professor of business; presented research papers at the 39th Annual Meeting of the Northeastern Association of Business, Economics and Technology in State College, Pa.
Langbein's presentation was titled "It is Possible to Teach Ethical Leadership?" while A. Maharaja and G. Maharaja presented on the topic "Is it a Quality Improvement or Just for Marketing? - Accreditation of Business Schools."
The conference trip was sponsored by James Michael Haley, Ph.D., Point Park University professor and H.J. Heinz Endowed Chair of Management.
"Special thanks to Dr. Haley who has been a long-time advocate of encouraging Point Park faculty members to work cooperatively on preparing and presenting scholarly research," said A. Maharaja.
Learn More
Learn more about the undergraduate and graduate programs in the School of Business at Point Park University.

Request information, schedule a campus visit or apply online.
More About: Rowland School of Business, faculty research, faculty presentation, faculty