more news
Business plan contest gives students real-world challenge
Friday, January 29, 2010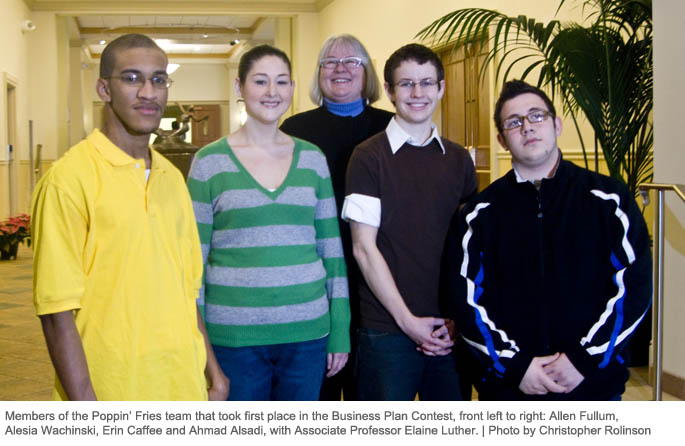 Students taking Point Park's Introduction to Business course fall term got a taste of real-world competition in what is shaping up as an annual highlight in the School of Business.
They also learned the power of french fries in a tough marketplace of ideas.
More than a dozen teams from two sections of BMGT 101 participated in this year's Business Plan Competition, and seven teams advanced to the final round of judging.
Ideas ranged from a discount book of budget-friendly activities around Pittsburgh to a Downtown commuter lounge with basic accommodations.
But in the end, the winning concept was built upon the love of nearly every college student's life -- affordable fast food.
"This project was very interesting because we had to come up with something that's never been done before," said Allen Fullum, a sophomore accounting major and member of the winning team, Poppin' Fries. "We asked ourselves what is it that Pittsburgh doesn't have? And then we realized there are no vending stands."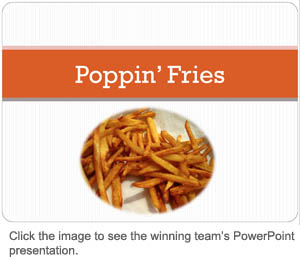 Travel to other major urban centers like New York City or Washington, D.C., and you'll find a street vendor on nearly every corner. The winning team, which consisted of Fullum and classmates Ahmad Alsadi, Alesia Wachinski and Erin Caffee, felt a french fry vending stand concept had good potential. From their perspective, college environments provide a steady demand for fast, cheap food and the market for street vending is virtually untapped in Pittsburgh.
For the Business Plan Contest, they needed more than just a gut feeling about their idea. They needed market data.
"We worked so hard," said Wachinski, a junior majoring in business management. "The group met every week to discuss the project. We used the Internet for initial research and we did our own market research and analysis. We had to apply the things we were learning in class to a real-life situation."
They also used their skills and contacts to solidify their findings. Alsadi's family owns a convenience store, so he asked corporate contacts for accurate pricing and profit margins on everything from soda pop to lids.
"Everyone in the group had their own specialty," said Alsadi, a freshman majoring in intelligence and national security. "I have experience with customer service and connections with corporations so we used that to build our plan."
After weeks of work refining ideas, gathering data and polishing their concepts, the 14 teams presented their plans in class, with Prof. Elaine Luther challenging the relevance and viability of each proposal. From there, seven teams advanced to the final competition in the George Rowland White Theater, facing five judges and about 40 observers.
"I think we felt comfortable with our material," said Caffee, a sophomore majoring in sport, arts and entertainment management. "Dr. Luther had already made us think about the plan so we were able to anticipate questions that would come from the judges."
The Poppin' Fries group did not consider their concept a shoo-in for the win. But they were excited that the judges saw value in such a simple idea -- and that they each received a $100 bookstore gift card for winning the competition.
Caffee said her father, a businessman and entrepreneur, was enthused when he heard the course involved a business plan project.
"My dad said, 'This is one of the most important projects you'll ever do.' Realistically, this teaches you how to work with people and helps you understand what it takes to open a business," Caffee said. "It's a lot of hard work."
Alsadi, Wachinski, Fullum and Caffee agree that students taking the Introduction to Business course will find the work interesting, with a lot of business concepts to learn.
"I urge other students to take this course," said Wachinski. "It has helped me in my other business courses and it was a great experience."
2009 Business Plan Contest Judges
Michele L. Langbein, assistant professor and director of undergraduate accelerated business, School of Business
Bob O'Gara, associate professor and director or accelerated programs, School of Communication
J.W. Tabacchi, director of student activities, Office of Campus Life
Andrea Wachter, professor, School of Business
Edward C. Wachter, professor, School of Business
Second place teams
Each team member received a $50 gift card to the Point Park bookstore
Downtown Commuter Lounge - Molly Foster and Kim Young
Downtown Discounts - Kris Frawley, Joshua Hedglin, Derek Peluso and Cassie Vice
theSHOOT - Doug Andiorio, Mitch Donaberger, Raheem Howard and Jon Malenock
Additional teams
FOOD 4 YINZ -Breanne Angelo, Quenette Battle, Chelsea Johnson, Andrew Mellon, and Kristen Veseleny
Cookie Nights -Matt Annecchiarico, Tyler Curtis, and Sean Glazor
Student Discount Book - Alisyn Blackwell, Thomas Boehme, and Anna DeLattre
Discount Box Office - Rachael Berube, Kaitlin Villines, and Amanda Wenger
Supplies for Less - Jody DeRiso, Frankie Donlon, Emily Myers, Chelsea Prestia, and Kim Sharp
Parking Service - Sam Bickford, Teena Harris, and LaTosha Stanton
Mad Max Franchise - Troy Beck, Marcus Johnson, and Tracy Tooch
Commuter Cafe - Lee Chandler and Tacara Jackson
Amway Franchise - James Acklin, Charles Mousseau, and Kayla Seybert
Mystique Motions Incorporated - Marcus Robinson and Desarae Smith