more news
Caribbean Student Chose Point Park for its Downtown Location and Career Opportunities
Monday, September 19, 2016


Meet Andre Bennett
Major: Accounting
Expected graduation: May 2019
College activities: Member of Men's Track and Field Team and Men's Cross Country Team
Scholarships from Point Park: Athletic scholarship
Hometown: Montego Bay, Jamaica
High school: Cornwall College High School
Now living in: Pittsburgh, Pa.
Hobbies/interests: I enjoy playing the piano and watching soccer.
Update
Andre was named a 2017 and 2018 Pennsylvania Institute of Certified Public Accountants scholarship winner. PICPA scholarships are awarded to qualifying full-time students who have completed a minimum of 36 credit hours, have a declared major in accounting with a minimum 3.0 GPA and are preparing to take the CPA exam.
As an international student, why did you select Point Park University in Pittsburgh?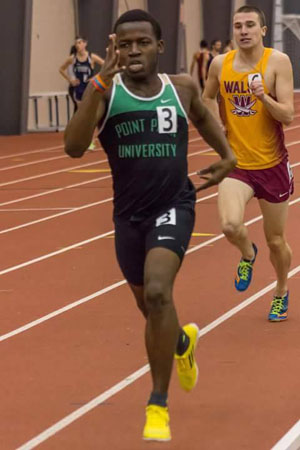 Interestingly, I first came to Pittsburgh to play against the Point Park Men's Soccer Team during my freshman year while attending Marygrove College in Detroit. I fell in love with Pittsburgh instantaneously, and the thought of going to college in the heart of a city with so many career opportunities was the key factor in my decision to transferhere. The transfer process was seamless and I knew in my heart that Point Park was the best school for me.
What have been your favorite accounting courses so far and why?
My favorite accounting course so far is Computer Applications in Accounting. I love this course because it gives me a practical outlook on the field and we do real-life simulations pertaining to software and applications that I will use in my future career.
Tell us about your experiences as an athlete at Point Park.
Having done track and field in Jamaica, I must say that doing track and field in Western Pennsylvania in the winter was something new, and it was really hard for me to adjust. However, in my very first races, both indoors and outdoors, I ran faster than the previous school records in the 800 meters. Those were my high points in the season, which was also plagued by various injuries.

Aside from actual running, my experiences as an athlete on campus have been really great! I have the best teammates one could ever ask for.

What do you enjoy most about living in Downtown Pittsburgh?
Wow, good question! I enjoy the "Steel City" and the fact that there is always something happening Downtown that peaks my interest; be it a sports game, a parade or an entertaining concert.

I love the atmosphere around Downtown, especially when the Steelers, Pirates or Penguins are playing at home. Also, I love that I can walk down to The Point to enjoy the views and unwind after a hard week of school.
What advice do you have for Caribbean students considering Point Park?
Going to college at Point Park University is a great investment for your future. If you desire a school that sets you up for career success and is in the middle of the city's job market, this is the school where you need to be. Point Park is the only such university like this in Pittsburgh.

As it relates specifically to school life at Point Park, the small class sizes and accessibility to educational resources are not easily found at other universities. It really is a great experience to be a Pioneer!
What are your career goals?
I aspire to become the chief financial officer or financial controller in a public accounting firm. But first, I aim to get my Bachelor of Science degree in accounting and gain work experience before taking CPA exams en route to my dream job.
More About: accounting, international, Rowland School of Business, student athletes, scholarships, transfer, Downtown Pittsburgh