more news
Classes, Internships and Job with Pens-TV Set up SAEM Student for Professional Success
Tuesday, April 5, 2016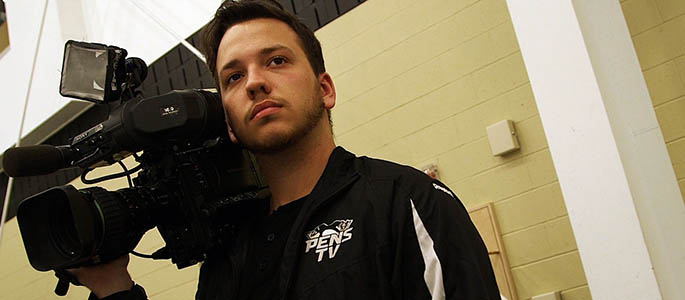 Meet Stone Swiess
Double majoring in: Sports, Arts and Entertainment Management and Multimedia
Expected graduation: May 2017
Part-time job: In-Game Entertainment Video Producer, Pittsburgh Penguins
Internships held: Imagine Careers (marketing), Pittsburgh Penguins (video production) and Auto Palace Porsche (photography)
Hometown: South Park, Pa.
High school: South Park High School
Hobbies/interests: Photography, traveling, rock collecting and drinking water
LinkedIn: Stone Swiess
Video: A Day in the Life of Stone Swiess
---
Related Links
What factors led you to pursue an undergraduate degree from Point Park?
The exciting atmosphere of Downtown Pittsburgh was the main reason I chose Point Park.
How is your Point Park experience preparing you for your career?
Point Park has given me the confidence to step out of my comfort zone to chase jobs.
What are your career goals?
My plan is to work in the field of marketing and advertising.
What advice do you have for a prospective student?
Do everything you can to get involved at school, and then branch out and apply the things you've learned in a professional setting.
Is there anything else you would like to add?
Don't underestimate yourself; you're more powerful than you think.
More About: sports, arts and entertainment management, Rowland School of Business