more news
Economics and Finance 2017 Grad Lands Position as Staff Auditor Soon After Graduating
Alumni Profile
Meet Amanda Horn
Major

Economics and Finance

Hometown

Moorhead, Minn.
"With every research project at Point Park, I was able to refine my analytical and technical skills. This has not gone unnoticed in the professional world."
Amanda Horn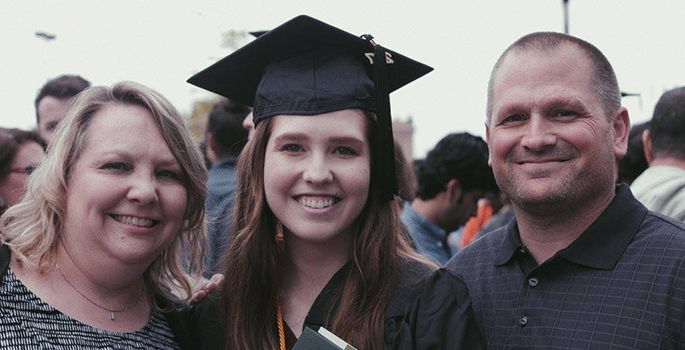 Amanda with her parents, Jean and Brian Horn, at Point Park University's 2017 Commencement Ceremony.
Meet Amanda Horn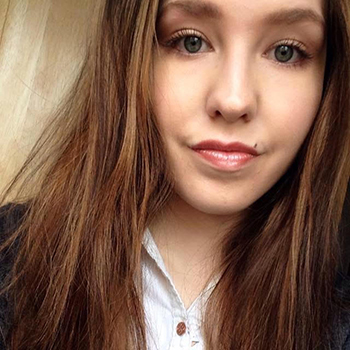 Job title: Staff Auditor
Employer: PRGX USA, Inc.
Degree earned: Bachelor of Science in Economics and Finance, 2017
College activities: Pay It Forward Club and The Feminist Collective
Scholarship: Transfer Trustee
Hometown: Moorhead, Minn.
High school: Moorhead High School
Now living in: Minneapolis/St. Paul area of Minnesota
Hobbies/interests: Reading, painting, ice skating, baseball, learning, travel and love spending time with friends and family
LinkedIn: Amanda Horn
Instagram: @amandah2334
How did you land a full-time position as a staff auditor?
After graduation, I was fortunate to go back to my internship to work while I was job hunting. After beginning the process, my uncle in the Minneapolis area recommended I speak with a Robert Half staffing representative who he worked with previously. I was familiar with Robert Half's services through Point Park's Internship and Job Fair. I had enrolled in Robert Half's Accountemps program for the Pittsburgh area.

About two months after enrolling in Robert Half's permanent placement services for the Minneapolis-St. Paul area, I went on a couple of interviews. Robert Half provided tremendous help and eased my nerves going into interviews. I interviewed with two companies and the second interview landed me a position at PRGX USA, Inc.
Tell us about the work you do.
At PRGX USA, Inc., we provide post-audit recovery services for various industries of the business and financial world. We help our clients manage the complexities of their suppliers, relationships and contract systems by analyzing millions of transactions.

PRGX's services are data driven, spanning across multiple industries including retail, grocery, manufacturing, energy and resources, financial services, government and public sector, and others all around the world.
I'm a part of the retail post-audit recovery team for discount retailer Target. With Target Corporation headquarters in Minneapolis, our team is nearby to ensure close relations with both our client and its suppliers.
How have your Point Park classes helped you in this position?
Point Park classes have helped me in many ways in this position. With every research project at Point Park, I was able to refine my analytical and technical skills. This has not gone unnoticed in the professional world. The research skills and attention to detail needed for these projects will help me go far in all areas of the business and financial world.

I also gained experience and skills working with computer software including Microsoft Access and Microsoft Excel. Such skills enabled me to get positive feedback from interviewers and especially helped me land my data-driven position as a staff auditor.
Why did you decide to attend Point Park and major in economics and finance?
Truthfully, I did not care for the economics course I had in high school at first. However, after a few weeks into the class the topics started "clicking" in my mind as I correlated the ideas to aspects of my after-school high school job. Later on, I found economics to be intriguing and loved learning the complexities of its theories. With a desire to help people, an economics and finance degree provided me with a multitude of avenues to take for a career.
I began my college career in my hometown at Minnesota State University Moorhead, MSUM, but I always knew I wanted to explore outside of my home state. With my family being big Pittsburgh Steelers fans, we ended up going to Pittsburgh for a family vacation to see a game at Heinz Field. I fell in love with the city, looked up some universities (mainly as a joke), and really enjoyed Point Park's philosophy and Downtown location.

I worked with an admissions staff member, ensuring all my credits would transfer and things worked out nicely. My two years at Point Park made for an exciting (albeit nerve wracking) adventure. I came to campus not knowing anyone and moved a time zone away from all my friends and family, but I left a city I consider my second home and gained a lifelong "Pittsburgh family" along the way.
Tell us about a favorite Point Park memory.
I have quite a few happy memories of Point Park. One memory I'll never forget is thanks to my faculty advisor, Dr. Luis Palacios-Salguero. Through his contacts, I was able to meet a couple of highly educated and profound professionals in Washington D.C. at the International Monetary Fund and The World Bank during spring break of my senior year.

I was awestruck (in a completely nerdy fashion). Here I was at the IMF and The World Bank headquarters in our nation's capital as I was learning and discussing these institutions in my Point Park classes. It was an inspiring experience and gave me something to strive for in my career.
I also always enjoyed going to my work study position in the Literary Arts department on campus. The faculty always made me laugh and smile and I'm grateful for all their encouragement, academically and professionally.
Is there anything else you'd like to add?
Do not be afraid to ask for help! Whether it's tutoring, counseling, faculty office hours, etc. — utilize Point Park's amazing faculty and services! And make sure to enjoy the city and all it has to offer. Pittsburgh has plenty to explore.
More About: success story, economics and finance, Rowland School of Business, scholarships, transfer, alumni