more news
Rowland School of Business Professor Dimitris Kraniou, Ph.D., Shares Business and History Insights at Conference of Modern Greek History
Tuesday, July 26, 2022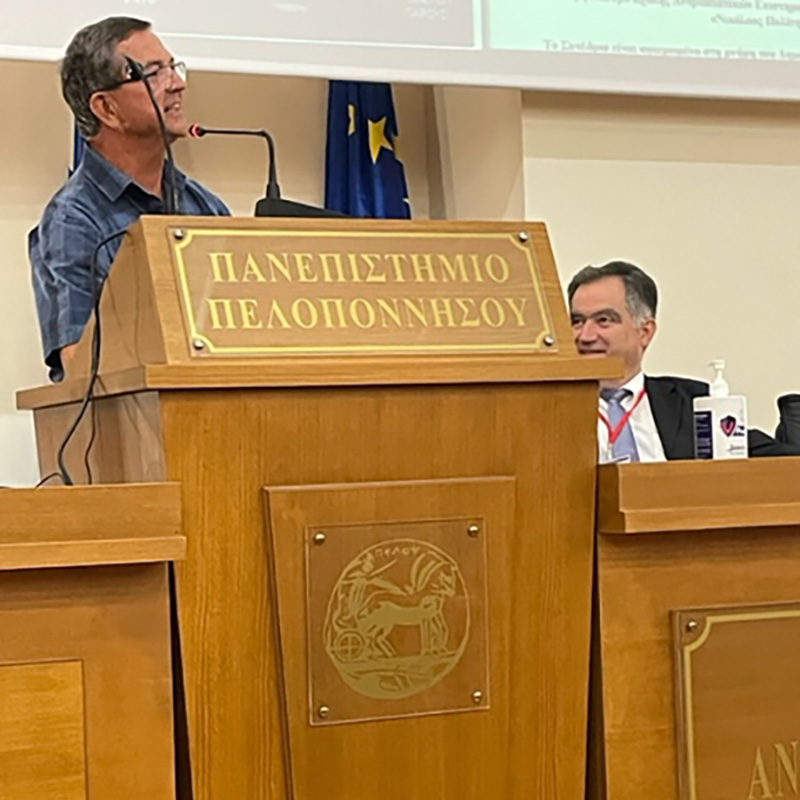 Professor Dimitris Kraniou, Ph.D., addressed the audience at the Conference of Modern Greek History at the University of Peloponnese in Greece this summer.
Point Park University Rowland School of Business professor Dimitris Kraniou, Ph.D., participated in and addressed the audience at the Conference of Modern Greek History of The Department of History, Archeology, and the Management of Cultural Goods at the University of Peloponnese in Greece this summer. The theme of the conference, held in Kraniou's hometown of Kalamata, Greece, was "September 1922: The Destruction of Smyrna-One Hundred Years from the Time the Greeks of Asia Minor Arrived in Greece."  
In the Q&A below, learn about Kraniou's experience and how such topics play into his coursework at Point Park. 
Describe your time at the conference.
I presented on historical events in modern Greek history. I then switched gears and responded to questions reflecting on Pittsburgh, Point Park and our programs. I also had the enriching opportunity to meet with students of various levels, from undergraduate to doctoral students attending and presenting papers at the conference.
I am interested in international economics and business, both of which relate to history. I was taken by historical events that impacted the nation in the ancient and modern times. The conference explored the Greek communities of Asia Minor, discussing a fascinating interplay of cultural, scientific, business and progressive developments; ideas and destructive events that impacted this region. 
What topics interest you?
I teach classes in international finance and international economics in the MBA program and at the undergraduate level. In both courses, we discuss all kinds of issues that are relevant to today's society, such as globalization, inequality, international affairs and international relations. I am also interested in the management of extraterrestrial resources. Unfortunately, I think what we are going to witness in the years to come is that the international arms race will move into the outerspace arena, but I would rather see it used for economic development and peaceful purposes. 
Describe the role history plays in your coursework.
I tell my students they cannot afford to be without the knowledge of history. If you look around, you will find out that the same factors and variables keep repeating themselves. Look at the present situation with inflation. I have been telling my students that unfortunately, until now, they have not witnessed this concept of inflation, or how stressful or pressing life was in the early 1970s when we had to deal with the oil crisis in 1973, 1979 and 1981. If you take some of the elements that we use today in our discussion involving inflationary developments, you will find that we are revisiting what we went through then. 
You must be familiar with the history that plays into economic events and developments, especially if you are a policy analyst or seeking a career in economics and finance, so that you can see how the variables are also related to historical events and how they impact the implementation of effective strategies and policies that we are in the process of using these days. Many of the factors that we are discussing today were factors previous U.S. administrations encountered in the past, starting with the Carter administration in the 1970s. Business involves an interplay of political, historical and economic factors. 
What do you enjoy about teaching at Point Park?
I have the privilege to teach a subject matter that I love and care about. The opportunity to interact with peers and friends, reflect on issues and ideas and cultivate them further to benefit students is tremendous. I also enjoy putting together research projects as a joint effort among faculty and students.
Learn more about our MBA program in the video below:
More About: faculty, faculty presentation, economics and finance, success story, Rowland School of Business