more news
Flight Paramedic Pursuing Bachelor's Degree in Public Administration for Career Growth
Friday, October 26, 2012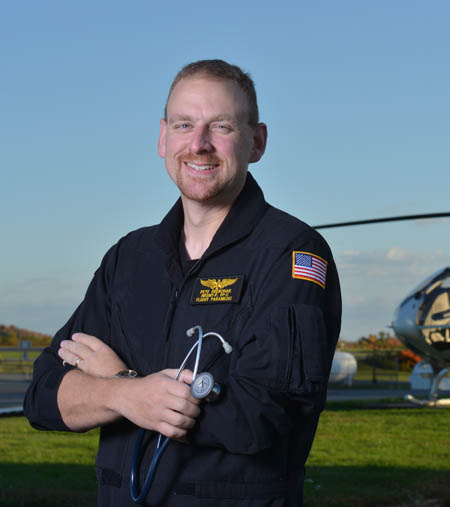 Meet Peter Frenchak
Job title: Flight Paramedic
Employer: STAT MedEvac
Degree pursuing: Bachelor of Science in Public Administration with a concentration in Emergency Medical Services Administration
Expected graduation: May 2014
Previous experience and education: Has worked 19 years in the EMS field; earned paramedic certificate from the Community College of Allegheny County
Hometown and current residence: Butler, Pa.
Hobbies/interests: Golf, hunting, music, and spending time with family
Honors and Awards: U.S. Air Force veteran; National Association of Emergency Medical Technicians academic scholarship recipient
LinkedIn: Peter Frenchak
2018 Update
Peter is now director of physician practice operations for Broward Health in Ft. Lauderdale, Fla.


Why did you decide to return to school to pursue a B.S. in public administration?
I want to continue to grow within my field and be a part of the leadership team that takes my company into the future. Education is an important part of my career growth and I'm grateful that my company supports this idea. I'm fortunate to work with a very talented group of people.

What factors made you choose Point Park University?
The public administration accelerated capstone program at Point Park gives me the versatility to reach beyond the EMS field and learn leadership skills that will help me effectively interact with non-profit leaders, hospital personnel, public safety professionals, and more. Additionally, the degree program gives me schedule flexibility since the majority of my classes are online. I also chose Point Park because I have an established relationship with Dr. Robert Skertich. Years ago, he was my instructor when I took classes through the Butler County Area Vocational Technical School's protective services program.
How do you balance work and family responsibilities with college?
First off, my wife is very supportive. She helps me to carve out time for school. My employer is also 100 percent supportive. STAT MedEvac wants to see me succeed. Their investment into my success will also equal success for them. In addition, the option to take some of my classes online has helped me to balance everything because I'm able to complete much of my work during times that are convenient for me.
What are your future career goals?
I would like to earn a master's degree and continue to grow within my company.
What do like about Point Park so far?
Being in class and hearing the ideas of other students has given me a broader spectrum on how I see things within my industry. Because most of my classmates and I are in similar career fields, we are able to share best practices with each other that we can take back to our workplaces.

I also enjoy Point Park's friendly campus environment and its small class sizes. Being an adult learner can be intimidating at first, but as I began to meet with various faculty and staff, I could see that they truly want students to succeed. Point Park has great learning facilities and is a very comfortable place to learn.

What advice do you have for individuals who are considering returning to school?
It may be scary at first but ask questions and see if the program fits. Be ready to dedicate time to school and things will fall into place much easier than you think. Smaller schools like Point Park tend to offer more individualized attention. For example, I have found the faculty and staff at Point Park to be very helpful and completely accessible. This has made transitioning back to school much easier for me as a new student.
More About: Rowland School of Business, public administration, veterans, EMS administration