more news
Student Q&A: Four Things to Know About Point Park University's Accounting Program
Tuesday, April 11, 2023
"I would recommend Point Park University to a prospective student because of its location and faculty. Being in Downtown Pittsburgh opens up several opportunities that cannot be found in other locations. The faculty at Point Park care about every student, and they do everything possible to ensure every student's success." 
Jayme Miller '23
When students in Point Park University's accounting program took a field trip to Wesco International, they weren't just touring the company headquarters. They networked with executives, delved into the technical details of a recent acquisition and applied course concepts to a real business scenario – all within a short walk from their classroom. 
The trip exemplified the distinctive advantages of studying accounting at Point Park: Well-connected faculty, real-world-inspired coursework, a bounty of experiential and diverse learning opportunities and a campus in the heart of Downtown Pittsburgh, surrounded by Fortune 500 companies.
"Touring businesses like Wesco is a fun and exciting way of reinforcing what is taught in the classroom," said Jayme Miller '23, an accounting major and Pottsville Area High School alumna. "The accounting faculty do an excellent job of providing students with the necessary skills and knowledge to enter the workforce, and seeing what we will do in our actual careers and the processes we've learned performed in real life aids in our overall comprehension and knowledge retention."
In the Q&A below, learn more about the key benefits of studying accounting at Point Park from Miller and other current students.
Experienced faculty are committed to your success. 
The accounting faculty at Point Park bring years of experience to the classroom, offering real-world examples from their time spent in a variety of types and sizes of businesses, including Big Four accounting firms, Fortune 500 companies, small businesses and not-for-profit organizations. 
They leverage business connections to provide students with networking, internship, part-time job and placement opportunities, bringing compelling guest speakers to campus or connecting students directly with internships. The faculty are also members of a variety of professional organizations, such as Financial Executives International (FEI), Institute of Internal Auditors (IIA) and Pennsylvania Institute of Certified Public Accountants (PICPA). Their active involvement in the field elevates the quality of education students receive. 
Small class sizes afford students with individualized academic support and foster greater student and faculty connections.
For Dante Gianfrancesco '25, an accounting major, economics and finance minor and Burgettstown High School alumnus, those small class sizes have helped foster a more customized learning experience. 
"There's a lot I like about Point Park's accounting program, but the number one benefit is the personalized feel students get as an accounting major," he said. "There is a lot to learn in the program, but resources are made available to you to help you succeed."
Relevant coursework prepares you for internships and jobs.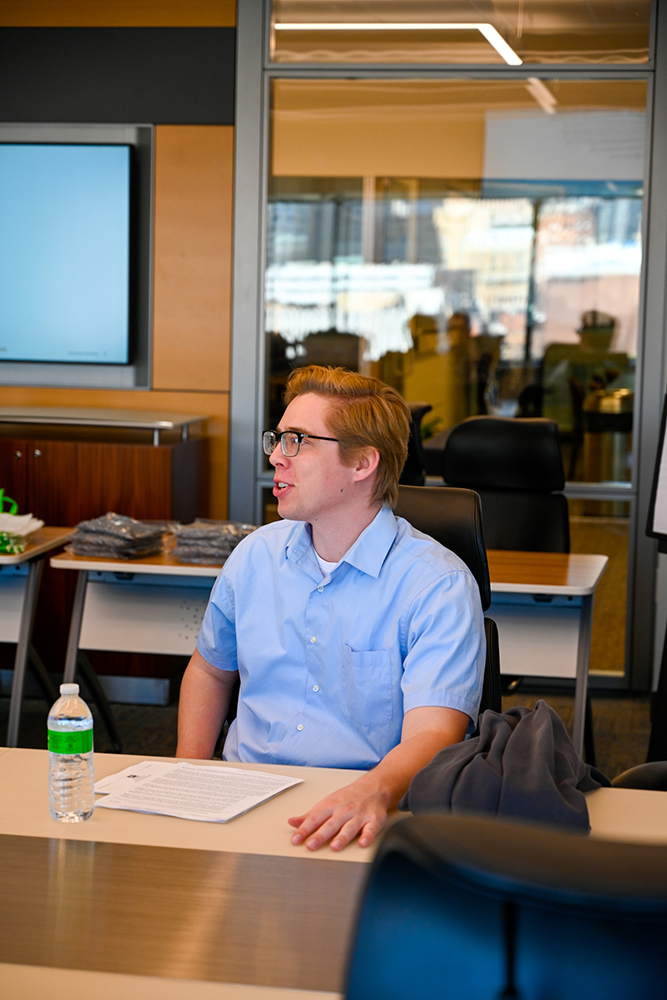 Alexander Scheidt '23
Point Park's accounting program provides students with the knowledge and skills to succeed in many accounting fields and enables them to obtain and retain positions that are in high demand.
Miller has completed internships with ACA Group and Nottingham Group, both of which tapped into the skills she gained in her accounting courses. She plans to intern with the auditing department at Baker Tilly this summer.
For Dominic Hodil '23, an accounting and business management double-major with a minor in economics and finance, Point Park's accounting program has prepared him for the workforce by keeping him up-to-date on the latest trends and changes in the industry. 
"The coursework is demanding, but it all ties together, and once the snowball gets rolling, it's simple to pick up," he said. "If there is something you don't understand, the professors are more than willing to help you out."
Alexander Scheidt '23, an accounting major and Governor Mifflin High School alumnus, agreed the coursework can be tough, but it's very rewarding.
"I like how the coursework has prepared me to enter the work field," he said. "I experienced this firsthand when I had an internship last summer."
Junior Mikyla Slater landed a part-time accounting administrator role at Gunning Mechanical, and she has internships lined up with PNC and PwC. 
"What I do at work is connected to things I am learning in school, which helps me understand the class material more and vice versa," she said. "Point Park's accounting program has helped me more than I could have ever imagined."
Read more about Mikyla's experience.
Access a wealth of extracurricular and experiential learning opportunities.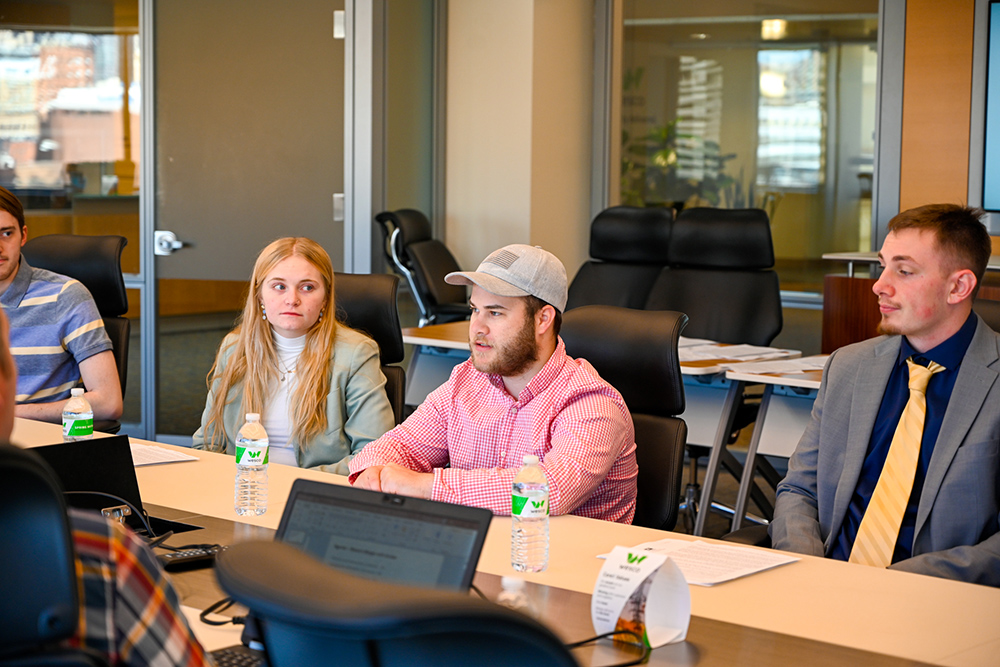 Dominc Hodil '23
As early as freshman year, accounting students establish their connection to the field through a variety of activities.
Students are introduced to a variety of internships, mentorships, co-ops and other positions throughout their college experience. 
Service learning opportunities like the Accounting Career Awareness Program, Bonner Leaders program and the Volunteer Income Tax Assistance (VITA) course help students apply their knowledge and develop leadership skills while they help others in the community.
The VITA course allows students to gain experience in tax return preparation and learn firsthand about IRS rules and regulations as they help low-income families file their annual income tax returns. 
"Besides the tax resource guide we got to keep, the best part of VITA was being able to help others," Hodil said. "We had the ability to change people's lives. As soon as the client would see their completed return, they would smile from ear to ear, and we could tell that we lifted a weight from their shoulders."
Perhaps one of the most valuable assets to accounting students outside of the classroom is the Student Accounting Association, a student-run organization dedicated to providing its members with meaningful events and activities to assist with their professional growth. Recently the organization hosted Colleen Paulson, a career consultant, for a workshop on utilizing LinkedIn to its full potential. She shared helpful tips on how to stand out to recruiters or potential employers online.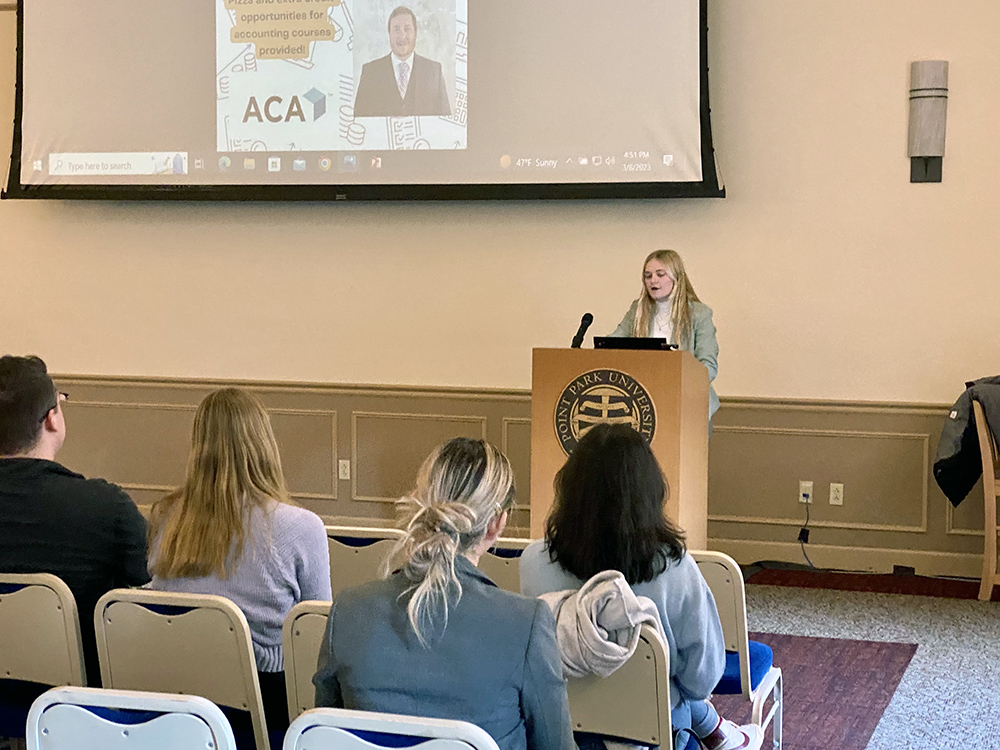 Jayme Miller '23
"One of my favorite events was when the FBI came and talked to us about financial crimes and careers in fraud examination," Gianfrancesco said. "Other guests have included Schneider Downs, PNC and PwC. The Student Accounting Association also offers a lot of other perks, such as PICPA memberships and free practice CPA exams."
Hodil said the association has helped him connect with potential employers.
"I landed an internship through a career fair that I heard about during a Student Accounting Association meeting," he said. "It's like a big family. Everyone looks out for each other and helps each other."
Miller, who currently serves as president, said one of her favorite aspects of the association is being able to help younger students.
"I enjoy getting to relay my experiences to other students and guide them through the processes of obtaining internships, enhancing their resumes and getting involved in extracurricular activities," she said. "Through the Student Accounting Association, I have enhanced my leadership and public speaking skills, which have already proven valuable to my desired career. I recently completed an interview for an auditing position with the U.S. Department of Defense, and the main attributes they were seeking from a candidate were leadership and presentation skills." 
Location, location, location. 
"The placement of the University is a huge plus as it's right in the middle of everything here in Pittsburgh," Scheidt said. 
The accounting program regularly takes field trips to various businesses like Wesco. Other frequent visits include the U.S. Steel headquarters, PPG and PNC Tower. With the city as their campus, students are immersed in the business community.
Additionally, Pittsburgh often plays host to professional conferences related to the accounting field. In 2022, the Institute of Management Accountants (IMA) held its Student Leadership Conference just steps away from campus. 
"I would recommend Point Park University to a prospective student because of its location and faculty," Miller said. "Being in Downtown Pittsburgh opens up several opportunities that cannot be found in other locations. The faculty at Point Park care about every student, and they do everything possible to ensure every student's success." 
Learn more about Point Park's accounting program:
More About: Rowland School of Business, Downtown Pittsburgh, success story, Student Accounting Association, PricewaterhouseCoopers, PNC, Pittsburgh, faculty, Schneider Downs, accounting