more news
Fully Online M.S. in Health Care Administration and Management Welcomes its First Graduates
Thursday, October 5, 2017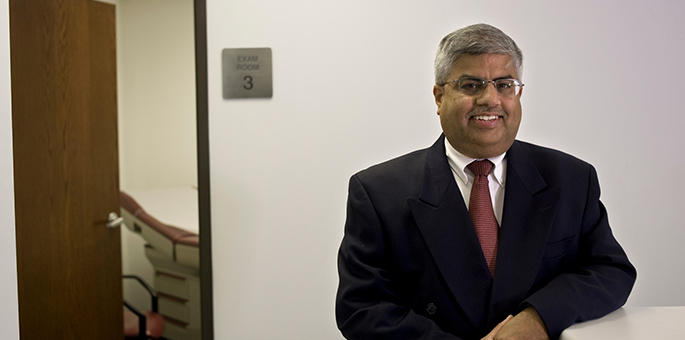 Archish Maharaja, Ed.D., CFP, CPA/PFS, director of the M.S. in health care administration and management program
The fully online Master of Science graduate program in health care administration and management in the Rowland School of Business at Point Park University recently welcomed its first class of graduates.

"This program was designed to provide flexible opportunities for students to learn about health care management theories and real-world applications in this industry," said Archish Maharaja, Ed.D., CFP, CPA/PFS, director of the program.
Maharaja added: "Our hope is that our graduates apply their knowledge to improve the quality of patient care and assist in reducing the overall costs of health care while advancing in their professional careers."
Meet the Class of 2017
Read feedback from some of Point Park University's 2017 M.S. in health care administration and management graduates.
Julie Burkette
Lead Surgical Pathology Technician
UPMC in Pittsburgh, Pa.
"I chose Point Park for the location and convenience of courses online. Even though this is a fully online program, I wanted to be instructed by professors knowledgeable of Pittsburgh's culture and health care systems. I enjoyed all of the courses, but my favorite was Quantitative Analysis because I have great interest in data and statistical analysis."
Michelle Berkley
Program Director
The Mentor Network in Washington, Pa.
"When I decided to go back to school for a master's degree in health care, I knew I wanted to attend a university that was local and well established. My favorite class was Global Healthcare Administration and Management because I gained so much knowledge from the content in that class. Learning about health care on a global level was interesting and informative. Since graduating, one of my goals — working as program director — has already come true."
Timothy Danzuso
Medical Support Assistant
Veterans Affairs Pittsburgh Healthcare System in Aspinwall, Pa.
"I chose this program because I want to continue to advance my career in the health care field. The Global Healthcare Administration and Management class has inspired me to pursue a doctorate in public health policy. I want to make a difference in this field and I believe my degree will be help me get there because of Point Park's great reputation for education."
CeMonne Hanna
Direct Care Worker
Commonwealth of Pennsylvania Department of Health and Human Services in Pittsburgh, Pa.
"The main reason I chose Point Park's M.S. health care program was for its distinguished reputation for producing ethical business leaders. In fact, my mentor is a Point Park University M.B.A. graduate. My favorite class in the program was Health Politics. I enjoyed being able to have healthy discussions in real time with my cohorts about political issues and concerns within the U.S. health care system."
Katelyn Klasterka
Customer Service Concierge
UPMC Health Plan in Pittsburgh, Pa.
"This program gave me the opportunity to continue working full time with UPMC Health Plan while earning a degree from a university with a strong academic reputation. My favorite class was Ethics and Leadership for Healthcare Managers. It provided many examples in ethical decision making and showed that working in the health care industry is both rewarding and challenging."
Jennifer Zarnesky
Cardiac Surgical Assistant
University Hospital Harrington Heart and Vascular Institute in Cleveland, Ohio
"I chose the M.S. health care program at Point Park University because it was fully online, which made it convenient to complete with a busy work schedule. My career goal is to one day oversee a cardiac program as an administrator. This program has set me up with the leadership skills I will need to make the change from clinical to administrative."
Learn More
The 36-credit fully online Master of Science in health care administration and management equips current health care professionals — and those seeking a new career in the health care field — with the tools and skills needed to successfully plan, direct and coordinate medical and health services.
Learn more about the M.S. in health care administration and management program, request information or apply online.
More About: online programs, graduate programs, Rowland School of Business