more news
Fundraiser planned, produced by SAEM students raises $14,000
Tuesday, June 1, 2010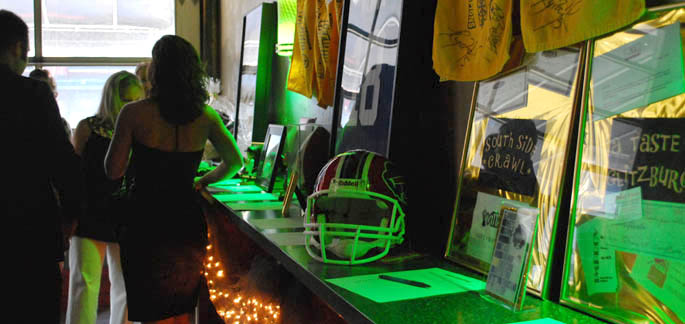 Above: The Glitzburgh event featured a number of sports-related silent auction items donated by a variety of Pittsburgh organizations and athletes. Below: The Glitzburgh team: Nick Ceraso, Rachel Kernic, Anna DeLattre and Dominic Janidas. The fifth member of the team is Lauren Kessler.

Three students and a new graduate of Point Park's sport, arts, and entertainment management program used what they learned in class to raise $14,000 for Children's Hospital of Pittsburgh by holding a celebrity fashion show and silent auction at a Strip District night spot.
Nicholas Ceraso who graduated in May, teamed up with SAEM juniors Rachel Kernic, Anna DeLattre and Lauren Kessler to plan and execute Glitzburgh: Glamour Meets Giving at FATE Lounge on May 23. SAEM is a major within the School of Business.
Auction items and prizes were donated from a wide range of Pittsburgh entities and athletes.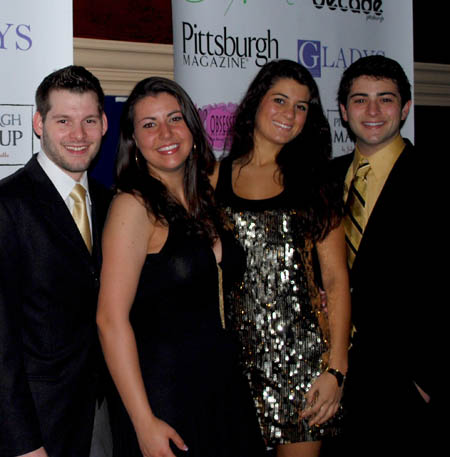 Dominic Janidas, president of Orion Management Group and a graduate student at Duquesne University, was also on the Glitzburgh team. The students partnered with Orion, Sports Legends Group, Celtic Charities and FATE Lounge to stage the event, which featured Steelers, Penguins and Pirates personnel, plus local performers and celebrities, all showing off the latest styles from area fashion vendors.
About 225 people attended the event.
"Pittsburgh came out to help us. The event was a great success and we fully intend on making it an annual event," said Ceraso, 22.
The project got its start about six months ago when roommates Kernic and DeLattre were watching a Victoria's Secret Fashion Show. They wanted to plan a similar event relating to their major. They set a goal of $5,000, never expecting to exceed it.
They joined forces with Kessler, Ceraso and Janidas, who knew Ceraso because both attended Mars Area High School. The team developed "Glitzburgh" as concept reflecting Pittsburgh as the City of Champions. With the theme nailed down, the students went to work on promotion, distributing press releases, developing a radio campaign, using social media and landing features in Pittsburgh magazines, newspapers, and KDKA-TV's "Pittsburgh Today Live" program.
Ceraso credits the SAEM program for teaching him to be aggressive, describing the program as "a business degree with a sprinkling of pop culture."
Kernic, 20, said Point Park professors always taught her to volunteer and "get to know as many people as you can."
Related links
Sport, arts and entertainment management program
School of Business
Admissions information
DeLattre, 20, considers herself fortunate to attend a university with a "unique college environment," where strong academics have prepared her to help orchestrate a major fundraising event.
Point Park SAEM Prof. Steve Tanzilli, also president of Sports Legends Group, started the SAEM program in 2002. He tries to partner with students on events such as Glitzburgh to give them real-world experiences in the field.
"The event was a full-time undertaking and how they pulled this off is so impressive. To do something where they aren't making money, and to use the knowledge they garnered at Point Park and put it to work is great," said Tanzilli.
"What makes Point Park different is the city is the campus. You can walk to radio stations or talk to people at Children's. The students embraced the event," he explained.
Christina Clinton Evans, director of communications for the Children's Hospital of Pittsburgh Foundation, said those who attended had a great time while helping a great organization.
"We are honored that these enterprising Point Park University students chose Children's Hospital as the charity to benefit from the Glitzburgh: Glamour Meets Giving event," she said.
Photos by Stephanie Jackson, senior photojournalism major