more news
GAI employees to graduate from On-Site Corporate M.B.A. Program
Friday, April 29, 2011
When 14 employees of GAI Consultants, Inc. join fellow Point Park University students on Friday, May 6 to receive their
Master of Business Administration degrees at the Hooding and Degree Conferral, it will signify not only a personal achievement for each graduate, but it will also mark the culmination of a unique collaboration between the University and Pittsburgh's business community.
GAI Director of Environmental and Energy Services, Jennifer Broush
GAI's newly minted M.B.A. recipients will be the first class to graduate from the School of Business's on-site corporate M.B.A. program. A fully accredited, accelerated M.B.A. degree, the on-site corporate M.B.A. program was delivered to the company's headquarters in Homestead as well as virtually to four additional GAI locations in the United States. Launched in 2009, the on-site M.B.A. program is taught by Point Park faculty at a company's location, utilizing the firm's existing technology and space.
According to Angela Isaac, Ph.D., dean of Point Park University's School of Business, the on-site M.B.A. degree "provides a realistic professional development opportunity for employees. Point Park works closely with an organization to offer a flexible program that delivers a compelling, challenging and relevant classroom experience."
GAI Consultants, Inc., a leading engineering and environmental consulting firm whose projects include PNC Park, Summerset at Frick Park and the David L. Lawrence Convention Center, was among the first businesses in the region to take advantage of the Point Park University program.
Related links
Corporate M.B.A. program
M.B.A. program
M.B.A. course descriptions
M.B.A. testimonials
Request information
"We were interested in the on-site M.B.A. delivery program because of its flexibility and convenience, but even more importantly, we saw it as an opportunity for our key employees to work together in developing enhanced business skills that will ultimately help GAI to be more competitive in the marketplace," said Gary DeJidas, P.E., president and CEO of GAI Consultants, Inc.
David Mollish, GAI Consultants' chief human resources officer and proud member of the company's first graduating class, said that earning a degree from their offices while also having to travel for business or work from another GAI location made the whole collaboration an exciting and viable possibility.
"One of our senior vice presidents had always been very interested in obtaining his M.B.A. but didn't think it would be possible given his travel schedule and the demands of his position," said Mollish. "But Point Park offered an accessible, flexible program and, as a result, six officers of the firm immediately committed to it."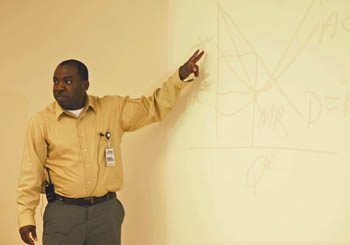 Point Park M.B.A. instructor Glenson France leads a class at GAI.

One of the most compelling aspects of the program for GAI employees is its mix of students, drawing from the company's top tier as well as those on the rise.

For Jennifer Broush, GAI's Director of Environmental and Energy Services, the opportunity to interact with members of senior-level staff in an academic setting has been one of the biggest appeals of the program. "We had the chance to share ideas and opinions which helped us understand each better in our capacity as business professionals," said Broush.
Learn more about Point Park's corporate M.B.A. program.