more news
Heinz Ethics Panel Garners More Than 100 Students and Business Leaders
Monday, August 22, 2011

Photo by Haryanti Sundari, Point Park M.B.A. student

More than 100 individuals including representatives from 51 different companies throughout the Pittsburgh region recently attended the ethical leadership panel discussion hosted by Heinz Corp. and Point Park's School of Business.
Heinz executives John Kraus, James Traut and Brian Shuttleworth presented on topics ranging from corporate governance and enterprise reputation to risk management and sustainability.
Following the presentations, Karen McIntyre, Ph.D., senior vice president of academic and student affairs for Point Park University and Mike Haley, Ph.D., associate professor and H.J. Heinz endowed chair of business management, led a panel discussion and Q&A with attendees.
The Bank of New York Mellon, West Penn Allegheny Health System, The Pittsburgh Cultural Trust, Philips Respironics, UPMC, Westinghouse and Highmark were among the companies represented at the panel discussion.
"The goals of the panel discussion were to address the challenges of ethical leadership and how it relates to sustainability from real executives who have been part of a company like Heinz, which has been sustainable since the Civil War times. We also wanted to present this information in a meaningful way, making students feel they are a significant part of the M.B.A. program and that ethics matters in a world where corporate ethical failures like Enron and Bernie Madoff are unfortunately more and more common," said Haley.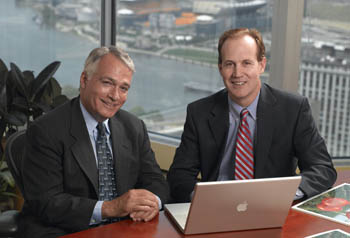 Pictured are Mike Haley (left) and John Kraus.

In his M.B.A. class, Haley's students analyze how Heinz Corp. uses ethical leadership to reduce risk and enhance sustainability. Students discuss Heinz's core values, standards of conduct, succession plan, green initiatives and research other examples of corporate responsibility.

"I really enjoyed the ethical leadership forum and hope the University offers more," remarked a Point Park M.B.A. student.
For more information on the School of Business and Heinz Corporation's partnership to advance ethical leadership studies, read the article in the Fall 2010 issue of The Point, a magazine for alumni and friends of Point Park University. In addition, view Haley's YouTube channel, which addresses issues and case studies relating to ethical leadership.
Ethics documentary created by Mike Haley, Ph.D., associate professor: