more news
High school students get crash course in SAEM program
Friday, July 30, 2010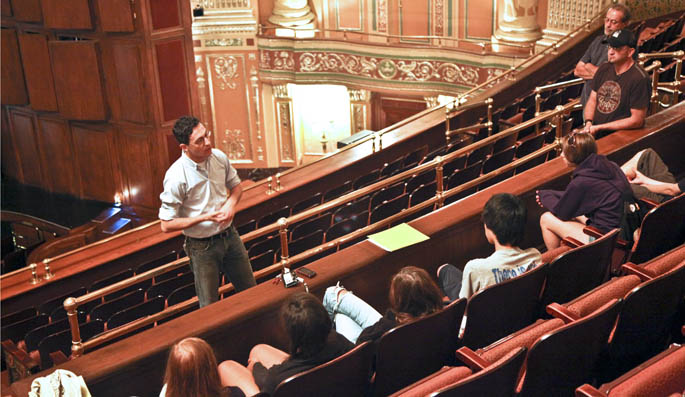 Assistant General Manager of the Benedum Center Jacob Bacharach speaks with students about managing a major entertainment venue.
For high school senior Madison Lescallette, the chance to go backstage at the Benedum Center and to meet a professional rock musician was thrilling.
Brenan Yeh, a junior, found the basics of entertainment law to be a fascinating look at "how the rules work."
And senior Mike Funyak enjoyed getting to know Downtown Pittsburgh, where he had visited but not spent much time.
All three took part in a new Point Park summer workshop in which high school students explored career and academic opportunities in the sport, arts and entertainment management industries. Point Park offers a bachelor's degree in SAEM, as well as a concentration within the M.B.A. program.
Related links
Sport, Arts and Entertainment Management program
School of Business
Admissions information
Apply Now
"This was a good way to get potential students on campus to see Point Park and learn about SAEM," said Assistant Professor Steve Tanzilli, director of the program. "We hit on everything over the three days."
On day one, Tanzilli discussed sports and entertainment legal principals and brought in a guest speaker from Red Bull as a case study in how companies use marketing strategies to reach specific audiences.
On day two, SAEM Professional-in-residence Ed Traversari covered the entertainment business and event management, including the Benedum tour and a visit from guest speaker Greg Joseph, bass player for The Clarks rock band.
On day three, Associate Professor Paige Beal focused on promotion and marketing, including the use of social media like Facebook and Twitter, and outlined the 4Cs of entertainment marketing: content, conduit, convergence and consumption.
"If you're interested (in SAEM), you should come to the workshop," said Taylor Barnes, a senior at Blackhawk High School who is interested in the music industry. "It was a crash course on everything and gives you a good idea if you want to get involved with it."
"The skills we've learned here I can use in my last year of high school and when I go to college," said Funyak, who is heading into his senior year at Penn-Trafford High School. "It was a great opportunity to see campus, get used to walking around Downtown and meet some interesting students and faculty."
Interested in attending next year's workshop? Contact Assistant Professor Steve Tanzilli at stanzilli@pointpark.edu or 412-392-4742.