more news
Information Technology 2015 Alumna Hired by Business Instructor Upon Graduation
Wednesday, August 26, 2015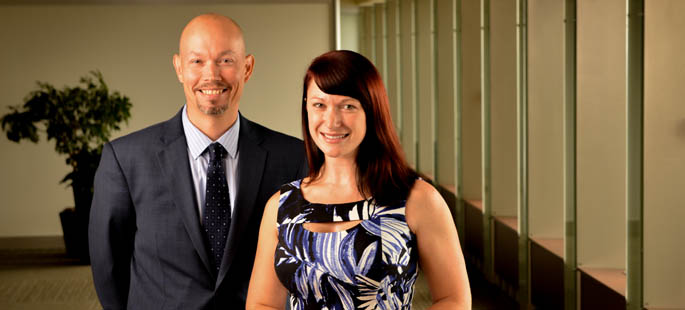 (L-R) Christian Carmody, School of Business instructor, and Erika Jones, information technology
graduate, at ClinicalConnect Health Information Exchange's office in Downtown Pittsburgh
For nearly eight years, Erika Jones was a police officer for the City of Pittsburgh. Although she enjoyed the work, she was ready for a career change.
"I could see so much potential in changing to a career combining security and information technology. IT security is a gray area that is rapidly changing and I love that challenge," explained Jones, a graduate of Pittsburgh Brashear High School.
After researching colleges in the Pittsburgh region offering IT majors, Point Park rose to the top of her list for several reasons — one of which was the 20 percent tuition discount the University offers for City of Pittsburgh employees.
"I also loved Point Park's location, the Saturday class schedule for working adults and the type of classes offered in the IT program," remarked Jones, who had already earned both a bachelor's and master's degree in criminal justice before coming to Point Park.
Soon after enrolling at Point Park, Jones had class with School of Business instructor Christian Carmody, senior vice president of the information services division at UPMC and president of ClinicalConnect Health Information Exchange.
"Erika is one of my most talented students of all time. From day one, she demonstrated her drive to learn as much as she possibly could to advance her knowledge and skills within the information technology profession," said Carmody, who teaches various courses at Point Park in the IT undergraduate major and the M.B.A. program's management information systems concentration for the past 13 years.
Carmody was so impressed with Jones' communication and leadership skills in the classroom that he offered her the position of compliance analyst at ClinicalConnect upon her graduation from Point Park.
"When you add in her background as a Pittsburgh police officer and her ability to work under pressure and make sound decisions, I knew I had to figure out a way to hire Erika into my organization," remarked Carmody.

Jones immediately began working at ClinicalConnect after graduating this past May with a Bachelor of Science in information technology - and a 4.0 G.P.A.
"Once I learned about ClinicalConnect and met the team, there was no looking back," she said. "This company is growing not only locally but nationally. I enjoy working with such a talented team to accomplish our goals."
As a compliance analyst, Jones ensures her company's health information exchange network complies with applicable laws while working to minimize privacy and information security risks. She currently manages all aspects of compliance for ClinicalConnect and investigates complaints, privacy issues and information security breaches.
"I was extremely lucky to have Chris Carmody as one of my professors at Point Park. He was an amazing instructor," remarked Jones. "He saw something in me that ultimately led me to my career change."
More About: Rowland School of Business, alumni, Pittsburgh Brashear High School, information technology, faculty, Pittsburgh Public Schools, Downtown Pittsburgh