more news
Information Technology Major To Focus on Building Skills in Advanced Programming
Tuesday, March 24, 2015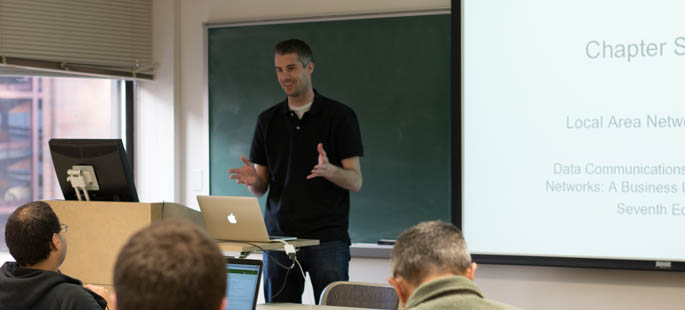 Mark Voortman, Ph.D., talks with students in his Introduction to Network Design class.
The re-launched information technology major at Point Park University, enrolling new students for fall 2015, will focus primarily on helping students build applicable knowledge in advanced programming, big data and business entrepreneurship - all valuable skills for the rapidly changing fields of IT and software development.
"It's important to stay ahead of the curve. Our program is giving students that competitive edge."

-- Mark Voortman, Ph.D.


---
Related Links
Information technology program
School of Business
Request information
Apply online
"We will be offering students the perfect mix of advanced technical programming skills while still giving them a solid background in business," explained Fred Kitner, M.S.I.S., professor of information technology at Point Park.
"Whether students decide to run their own start-up business or work for a large company, we want them to be educated to be tool builders rather than just tool users," Kitner added.
Courses in the newly revised IT program range from business analytics and big data applications to server management and software development for e-commerce.
"In the IT field, the more technical you are, the more valuable you are to a company. Programming is such a powerful tool that is in really high demand," said Mark Voortman, Ph.D., Point Park visiting assistant professor of information technology.
Students in the IT program at Point Park can choose to concentrate their degrees in one of the following areas:
Data analytics;
Mobile development;
Software development; or
Student-designed concentration based on his or her desired career path.
Every student in the program will get his or her own virtual learning environment to gain hands-on experience in learning how to set up web servers and databases and then connecting them to the websites they built, explained Voortman.
"It's a lot of fun as a teacher to see what students create," he remarked. "All students will have the opportunity to showcase what they built from the ground up and can translate these advanced programming skills directly into the workplace."
"It's important to stay ahead of the curve. Our program is giving students that competitive edge," added Voortman.
Learn More
Applicants are now being accepted for the fall 2015 term. For additional information on the information technology program, contact the Office of Admission at 412-392-3430, 1-800-321-0129 (outside Pittsburgh) or enroll@pointpark.edu.

Photo by Victoria A. Mikula, sophomore photojournalism major
More About: information technology, IT