more news
International MBA Students Discuss Why They Chose Point Park University
Wednesday, November 23, 2011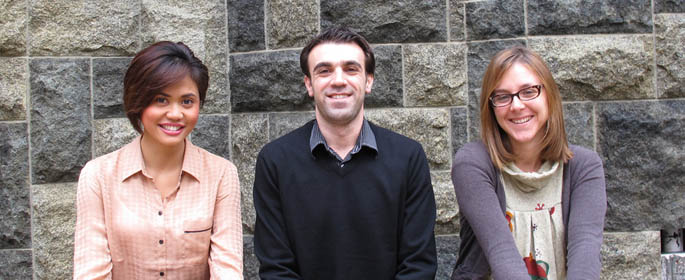 Pictured left to right are Antie Sundari, Ragheed Muhra and Eleonora Candilera.

Graduate students Antie Sundari, Ragheed Muhra and Eleonora Candilera, whose native countries are Indonesia, Syria and Italy respectively, discuss why they chose Point Park to pursue MBA degrees. Sundari is concentrating her MBA in both sport, arts and entertainment management and international business while Muhra's concentration is international business and Candilera's is management.
Of all the universities in the U.S. and across the world, why did you choose to attend Point Park?
Candilera: Before moving here from Venice, Italy, I could barely identify Pittsburgh on a map. I knew it was in Pa. and that the city used to be an important center for the steel industry but nothing more than that. I couldn't have imagined that Pittsburgh would become my second home. However, two years ago my boyfriend got an important job offer in Pittsburgh so we decided to move here. I quit my job as an HR consultant and I chose to do what I had been planning for a while, which was to get my MBA. The school choice was not an easy process. Pittsburgh offers so many different and valuable options. However, Point Park made my decision easier. They've always treated me as a person, not a number or a customer, and understood my needs as a non-traditional student. Moreover, I was able to attend an intensive language course hosted by the University and I also received help with my immigration procedures.
Muhra: Point Park is affordable and offers a convenient Downtown Pittsburgh location. Originally I wanted to do the Master of Arts in organizational leadership program since this was very connected to my work experience in life. However, after talking to advisors at Point Park, I learned that the MBA program was broader and fit me better.

Sundari: I've been living in the city of Pittsburgh since I was 13 years old and it is considered home for me. So, I am quite familiar with the universities here in the city. I was going to choose Point Park University for my undergrad in journalism broadcasting, instead I went to Duquesne. I knew I wanted to pursue my graduate school at Point Park afterwards. The reason why I chose Point Park is because of the location of the University being at the heart of Downtown Pittsburgh where all of the corporations as well as other businesses are located. Another reason I chose Point Park was because its MBA program offers concentration tracks designed specifically to a student's interest and background. I decided to concentrate in international business as well as SAEM because the global business environment and an international business strategy are pertinent for corporations in today's global market. SAEM is very innovative and it enables me to build a strong foundation in business with the added in sport, arts, and entertainment. It will collaborate well with my background in journalism broadcasting and media management.
What do you enjoy most about Pittsburgh?
Sundari: Pittsburgh's geographical location is definitely a great feature, especially the view when you come out of the Fort Pitt Tunnel. Neighborhoods like "Little Italy" and "Polish Hill" are very distinct with their own ethnic heritages. The city also offers great opportunities for arts and culture with a variety of museums and theaters.
Candilera: To be honest, I have to say it wasn't easy at first. The cultural shock was pretty strong, but I got over it and now I love my new home. What I like most about Pittsburgh is that is has the positive sides of both a big city and a small town. I think this is because Pittsburgh is more a collection of different neighborhoods with different souls than a big center. You can always find something that suits your mood whether it is the weekend market in the Strip District, awesome shows in the Cultural District, tiny galleries and coffee shops in Lawrenceville, museums or sports. Living in Downtown Pittsburgh, I can ride my bike to get to all the places I need to go including class.
Muhra: Pittsburgh is a fun town but at the same time not too expensive. I enjoy experiencing the four different seasons and the multinational environment of Downtown Pittsburgh. I absolutely love the coffee in this town too. Getting a cup of American coffee and taking it with me to class is amazing!
How is Point Park helping you to reach your goals?
Muhra: At Point Park I have experienced new concepts, techniques, facts, mindsets and lifestyles. I have been introduced to new analytical ways of thinking, critical reading methods and most importantly, how to research practically, scientifically and professionally. Point Park has helped me to narrow down my dreams and goals.

Sundari: Point Park is definitely helping me achieving my career goals for the future. At Point Park, I have learned the different methods of problem solving and decision making, while using my analytical as well as critical thinking skills. In collaboration with my experience in journalism and media management, my MBA degree will definitely assist me greatly in the future. I think these two assets will give me an edge. My goal is to become a correspondent for a TV station or a media consultant for an international organization.
Candilera: I feel Point Park has given me the tools and skills to achieve my career goals. I graduate in December and will begin working in January in social media marketing. I am happy because now I have a sense of direction and I feel ready to go back to work.