more news
Isaac brings blend of academics, corporate finance
Wednesday, December 16, 2009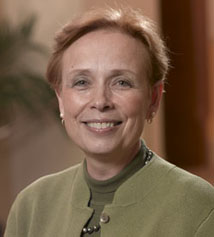 As the new Dean of the School of Business, Angela Hardy Isaac, PhD., offers a unique blend of academics and corporate finance as she seeks to prepare students for their journey in the business world post-college. Most recently the Senior Vice President of Operational Risk and Oversight and Interim Head of Market Risk Oversight at Fannie Mae in Washington, DC, Dr. Isaac has been intimately involved in the ups and downs of corporate finance for the past 20 years. This insight and experience has led her to a professional understanding that she plans to use extensively in her role as dean.
A faculty member at several New York universities for 10 years post-graduate school, Isaac received a doctor of philosophy in finance and economics and a master of arts in applied economics from State University of New York; and a master of business administration and a bachelor of arts in political philosophy from the University of Pittsburgh. In 1987, she joined the corporate world and found herself immediately immersed in risk management. Since that time, she has held numerous executive positions at leading financial institutions.
Through it all, Isaac always had a longing to return to academics where her professional experience could benefit students as she exposed them to realities of the business world. At Point Park, she has been given that opportunity.
"It's unusual for someone with corporate experience to become a dean," explains Isaac. "Most universities look for someone with more academic research experience. But I have a good understanding of what students need to know as they walk out the door of the university."
As a past advisor to universities on risk management and finance curriculums, Isaac stresses the importance of providing Point Park students with exposure to not just corporate business but also public administration, nonprofits, single ownership and other types of organizations.
Since coming on board in July, Isaac has been meeting with faculty and staff as well as corporate leaders to learn more about the challenges and opportunities available at the School of Business. One goal is to expand corporate relationships and strengthen partnerships in the community to bring the business expertise of executives on campus.
Most importantly, Isaac's vision for the School focuses most on the students.
"I believe in lifelong learning for students who come to Point Park," notes Isaac. "The goal is to structure our programs and interactions to provide a learning community that students can turn to throughout their professional careers. In other words, Point Park University is an excellent lifetime investment!"
Article by Camille Downing
Photo by Ric Evans