more news
Italian Singer's Concert Introduced SAEM Students to Behind-the-Scenes Work
Monday, October 24, 2016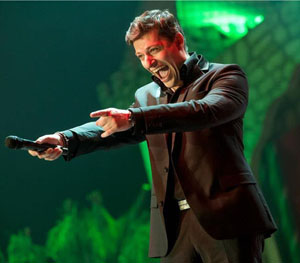 Seven SAEM majors — including freshmen and sophomore students — gained their first live entertainment work experience at international Italian performer Patrizio Buanne's concert at the Byham Theater Oct. 15.
"For several of the students, this was their first time working backstage at a concert venue," remarked Ed Traversari, M.B.A., associate professor of sports, arts and entertainment management.
The students assisted with production running, merchandise, dressing rooms and backstage catering. They also had the opportunity to help with Buanne's meet and greet with his fans.
"It was a great experience interacting professionally with talent. Patrizio spent time talking to us about the challenges in the music business and where the industry is going and he gave us his point of view on making a living as an artist," explained Anamika Misra, a junior SAEM major from Santa Monica High School in Santa Monica, Calif.
"The students were extremely professional, eager to learn, and helped with whatever was needed at the time. They had very good questions and seemed genuinely interested in learning not only what we were doing, but why. I truly enjoyed working with all of them!" said Kellie Kane, production manager for HJD Enterprises.
While working at the concert, freshman SAEM student Sarah Balkey from North Allegheny Senior High School in Wexford, Pa., enjoyed learning about the different jobs backstage.
"It was interesting to see what everyone was responsible for and how smoothly a show runs from behind the scenes when everyone is doing their jobs right," Balkey said.
"I'm excited to continue learning about the entertainment industry and what goes into artist/tour management. I want to be involved in the music industry and I think Point Park can help me with accomplishing this," Balkey added.
Learn More
Learn more about the SAEM program and check out where SAEM alumni and students have internships and careers. Request information on the program or apply online.
More About: North Allegheny Senior High School, sports, arts and entertainment management, Rowland School of Business