more news
Public Administration Student Kevin Behun Elected Harmony Fire District President
Student Profile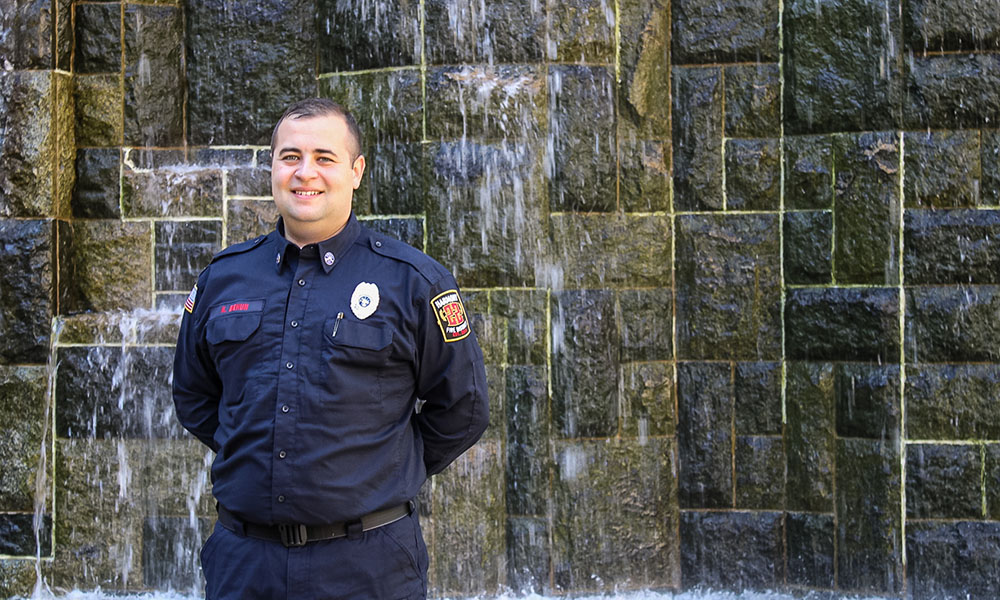 Photo by Nathaniel Holzer

, B.F.A. in screenwriting major
Meet Kevin Behun '22
Job Title & Employer

Pilot, Delta Air Lines

Job Title & Employer

President, Harmony Fire District

Major

Public Administration-Fire Service Administration-B.S.

Hometown

Zelienople, Pa.

High School

Seneca Valley High School

Now Living In

Zelienople, Pa.

Hobbies & Interests

Being a husband and father, hunting, fishing, being a firefighter and all things aviation
"The material I have learned has made my new administrative job of president much easier. I have been able to immediately reap the rewards of the classes I have taken."
Kevin Behun '22
A volunteer firefighter since 2004, Public Administration student Kevin Behun was recently elected president of the Harmony Fire District. He also received the department's prestigious Douglass A. Pickett Leadership Award for his efforts to help his team pivot during the COVID-19 pandemic, revamping the department's key fundraising campaign to prevent a potential shortfall and frequently answering fire calls when changes to his work schedule as a Delta Air Lines pilot gave him more time at home.
In the Q&A below, Behun shares details about his new role and how his experiences at Point Park are helping him excel. 
What does your role as president entail?
The biggest hurdle we had before I was elected was securing funding for a new fire station. We had been going down the road of designing a new building for years prior to being denied funding by one of our municipalities in fall 2020. My first few months in this position has been focused on reviewing everything we did and everything we need to do in order to move forward. We just recently secured commitments from all of our municipalities to fund the project, and we have proven our budgetary needs.
Aside from this big project of building a new primary fire station, my duties and responsibilities will be running the business side of a volunteer fire department, which includes supporting our 50+ volunteers, working with our four municipalities and their elected leadership, as well as interacting with county leaders and other departments in the area to ensure we are all supporting each other as much as possible.
How are you applying what you've learned at Point Park to your work with the fire department?
The understanding of how state and municipal government works has been invaluable in helping me navigate the discussions and bureaucracy of the local governmental structure. The classes pertaining to budgeting for nonprofits have been very beneficial as we navigate the process of asking municipalities for more money, working with our banks on loan information and discussing real estate sales to purchase land for a new station. 
How did you find out about Point Park, and what drew you to the Public Administration program?
A few years ago I attended the Fire Service Instructor 1 course at the Pennsylvania State Fire Academy. This course was taught by Dr. Robert Skertich. He did not pressure students to consider Point Park's program, but after working with him for a week, I was interested in learning more. Several of my friends in the fire service are Point Park graduates, and they all had great things to say about the program. I was drawn to the program because of how easy it would be to complete with my full-time job. 
How have your coursework and professors impacted you? 
The material I have learned has made my new administrative job of president much easier. I have been able to immediately reap the rewards of the classes I have taken. Point Park instructors are fantastic, accommodating and genuinely interested in their students succeeding. I truly wish I would have started down this road years ago. You don't need to be looking into a full-time job in the fire service in order for this program to pay dividends.
More About: Pittsburgh, Seneca Valley High School, public administration, Rowland School of Business, success story