more news
M.A. Organizational Leadership Student Honored by the PA Institute of Certified Public Accountants
Wednesday, December 5, 2012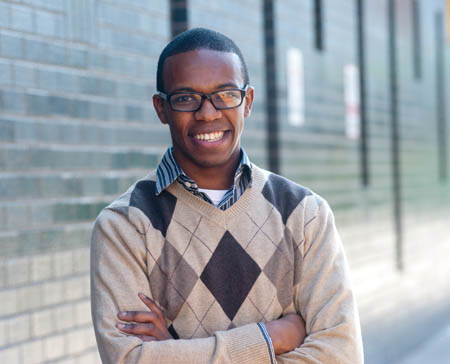 Kenyan native and Point Park M.A. in organizational leadership graduate student George Githiaka was recently honored by the Pennsylvania Institute of Certified Public Accountants with a $3,000-level multiyear scholarship.

He was also recognized in the Fall 2012 issue of the Pennsylvania CPA Journal for his achievement.

The PICPA Student Scholarships are awarded to qualifying full-time students who maintain a 3.0 or better GPA, are pursuing or have earned a bachelor's degree in accounting and are preparing to take the CPA exam.

Githiaka earned a Bachelor of Science degree in accounting and finance from La Roche College in 2010 and is expected to graduate this May from Point Park with a Master of Arts degree in organizational leadership. He also works as a graduate assistant for the Department of Global Management and Organization and is president of the Graduate Student Association at Point Park.

"The M.A. program in organizational leadership pushes students to get a better understanding of the different types of leadership styles needed for various situations. It encourages ethical values and teaches creative problem solving from a leadership perspective" said Githiaka. "Learning more about the area of organizational leadership will give me an edge when a job opportunity in management arises."
After graduation, Githiaka hopes to work for a professional accounting firm. Down the road, he would also like to pursue consulting work.
"George is a leader who inspires others with his long-term vision. He is very hard working, humble and intelligent. In my classes, students always listened to him because he spoke from the heart with mindfulness and respect to others," said Helena Knörr, Ph.D., associate professor of organizational leadership.

"Being in Downtown Pittsburgh, Point Park offers an ideal environment for a graduate student looking to get ahead," remarked Githiaka.
More About: Downtown Pittsburgh, M.A. in leadership, Rowland School of Business, international