more news
Managing and Marketing Music Artists: SAEM Grad Thriving in Arts Management Field
Alumni Profile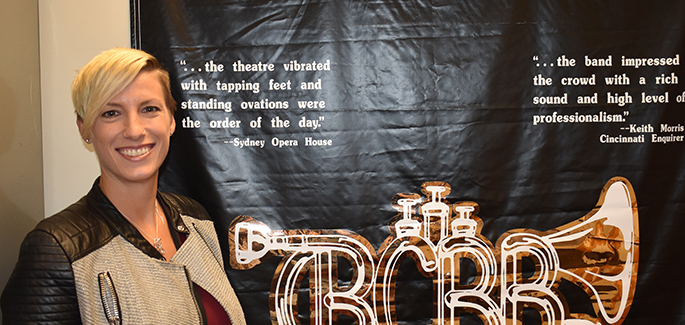 Meet Carissa Atkinson
Job Title & Employer

Founder/Artist Manager and Marketing Director, Creative Direction Artist Management and River City Brass Band

Major

Sports, Arts & Entertainment Management

Graduation

May 2015

College Activities

Student volunteer at various performing arts conferences

Scholarships

Scholarship for attendance at Pennsylvania Presenters Conference in June 2014

Hometown

North Huntingdon, Pa.

High School

Norwin Senior High School

Now Living In

Pittsburgh, Pa.

Hobbies & Interests

Karaoke, skiing, hiking, camping, traveling and anything involving a beach
"Carissa's resume had many of the qualities we were looking for and, during her interview, she was very confident and knowledgeable about our organization. Point Park University helped to open doors for Carissa including offering her with opportunities to real-life work experiences."
Cynthia Geib, Operations Director, River City Brass Band
"The SAEM department is made up of more than faculty - it's a family. We've built lasting relationships with each other, and I know that they are always in my corner, willing to help in any way they can."
Carissa Atkinson
Tell us about your work in Pittsburgh's arts management field.
I began my artist management career working under the direction of Linda Reznik, who founded River City Artists Management. I owe much of this opportunity to Professor David Rowell, since he introduced me to the performing arts market by taking me to several performing arts conferences throughout 2014. There, he helped to connect me to several influential people in the business, including Linda!
After getting to know each other at a couple of the conferences, Linda approached me to represent her company and its roster of 13 dance companies at the Performing Arts Exchange Conference in Atlanta, Ga. I was honored and thrilled to accept, and upon the end of that conference, I had a position as assistant artist manager with RCAM. Shortly after my graduation from Point Park in 2015, Linda retired from RCAM and I began the transition into starting Creative Direction Artist Management.

My first year in business was spent learning about what worked, what didn't work and figuring out how to restructure and adapt to continue making progress. I originally included six categories within my roster: TV/film, voice over, modeling, comedy, music and dance. Over time, I realized that I had to narrow my focus to better serve my artists. Now, specializing in the music business, my roster is comprised of four musical artists and growing, in addition to various artists in the entertainment industry, all for whom I work to find new opportunities.
After making significant progress in the entertainment field and finding a business model that works, I decided to leave my primary source of income in the service industry and find a role that would coincide with my work as an artist manager. Once again, Linda offered me a wonderful opportunity - to apply for the position of marketing director with River City Brass Band, where she works as director of artist management.
I am ecstatic to work with such a successful organization, surrounded by great people who are dedicated to the arts. I've just begun my role at RCBB, and I have enjoyed every bit of it! With my current roster of talented artists and the amazing River City Brass Band, great things are happening all around - the future is looking very bright!
What made Point Park University stand out to you?
I was living in Fort Lauderdale at the time I decided to finally go back to school to complete my degree. I searched everywhere for a program that would fit my desire to become a music agent, but nothing in South Florida came close to my criteria. Thinking my only options were relocating to Full Sail University or staying in Ft. Lauderdale and pursuing a basic business degree, my mother suggested I consider moving home and attending Point Park University since it's well known for the arts.

I searched for "music agent" on the Point Park website, and there it was: SAEM. It was EXACTLY what I had spent so much time looking for, right in my own hometown. So, I moved back to Pittsburgh a month later and enrolled for the first available semester. Best decision I ever made!
How have the SAEM faculty and classes helped you in your career?
The SAEM network, knowledge and experience and the ever-growing desire to create successful opportunities for students, is what makes the SAEM faculty and classes stand out from the rest. It's the nontraditional, hands-on environment that has allowed me to thrive.

The SAEM department is made up of more than faculty — it's a family. We've built lasting relationships with each other, and I know that they are always in my corner, willing to help in any way they can. That's something you just don't get anywhere else.
What advice do you have for our SAEM students focused on arts management?
Listen, pay attention, ask questions and absorb as much information as you can from every one of these experienced individuals. Be present, get involved and seize every opportunity to attend events and conferences to grow your network, locally and nationally. Face to face interaction is invaluable.

Photo by Brandy Richey, junior multimedia major
Connect with Carissa Atkinson
More About: Pittsburgh, sports, arts and entertainment management, Norwin High School, alumni, Rowland School of Business