more news
M.B.A. Alumna Christine Demore is BNY Mellon Global Pricing Operations Manager
Monday, November 19, 2012


Meet Christine Demore
Job title: Global Pricing Operations Manager
Employer: Bank of New York Mellon
Degrees earned: M.B.A., Point Park University; Bachelor of Science in accounting, Robert Morris University;
Associate in Science in accounting, Community College of Allegheny County
Graduation years: 2012, 1996 and 1993
M.B.A. concentration area: International Business
College activities: Professional Development and Networking Chair for Point Park's Graduate Student Association, Point Park United Student Government Senator, Panelist for 2011 global financial crisis presentation at Point Park
Hometown and current residence: Baldwin, Pa.
Hobbies/interests: Cooking, running 5Ks with my two sons, Point Park University Alumni Association board member
Why did you decide to pursue an M.B.A. degree?
I manage a large team at Bank of New York Mellon, many of whom were in school to earn M.B.A. degrees. I knew earning an M.B.A. degree would be beneficial to me and would make me both a better manager and role model. I always want to make sure I am setting a good example for my sons.
Did working in Downtown Pittsburgh play a role in your decision to attend Point Park?
Yes, location played a vital role. I looked at other schools but Point Park's location was the deciding factor for me. I liked the convenience of having the University's library and professors right down the road from my workplace. Also, I could take the bus in to work and ride it home in the evenings after class.
How did you balance going to school with work and family life?
It was definitely a challenge. You have to stay very organized and write everything down. I had to make some sacrifices but thankfully I had a good support system with my extended family. Basically, when my kids were doing homework, I was doing my homework also.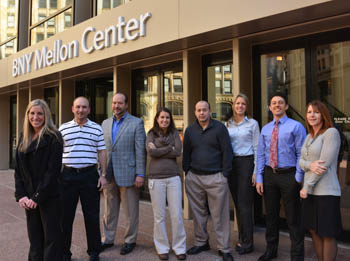 Pictured are some of the Point Park M.B.A. alumni
and students currently working for BNY Mellon.

What are your key responsibilities as a global pricing operations manager?
I oversee all meetings, audits and project work in the global pricing department. I look for ways to mitigate risk since what we are inputting has a direct impact on our clients. I also focus on process improvement. Often there are better ways to do things and I like finding out those ways. I'm also responsible for relationship building with vendors and clients and encouraging professional development among my staff. Overall, I interact with a variety of people each day who are working in many different roles.

How has your M.B.A. degree benefited the work you do?
My M.B.A. classes have helped me be a much more effective communicator and I've learned how to deal with difficult people and situations. Also, because the operations I work in are global, being in class with international students has helped me in my job to really look at others' perspectives and get rid of biases.
What are your future career goals?
I'd like to stay with Bank of New York Mellon and grow within the company, possibly working in the areas of risk, compliance and ethics. There is so much within this company to learn.
Is there anything else you'd like to add?
Point Park has helped me to come out of my shell. Before grad school, I was nervous to speak in front of a group. My M.B.A. classes helped me to break down those nerves and get over that fear. Grad school also helped me to build such a strong network of friends and colleagues. Because of that, I have a real attachment to Point Park.
More About: M.B.A., BNY Mellon, alumni, Rowland School of Business, success story