more news
M.B.A. alumna creates nonprofit Beverly's Birthdays
Friday, December 9, 2011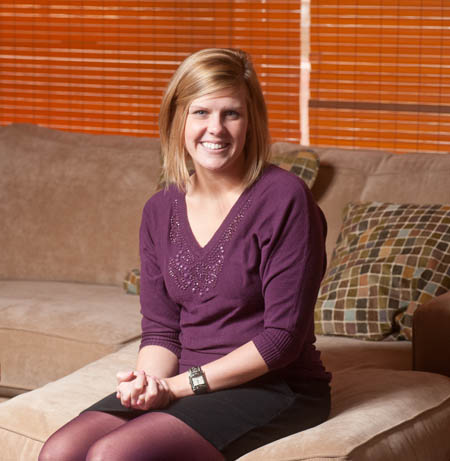 Meet Megs Yunn
Job titles: Founder of the nonprofit organization Beverly's Birthdays; director of volunteer programs at Washington and Jefferson College
Degrees earned: M.B.A. with a concentration in management, Point Park University, and Bachelor of Arts in organizational communications, Marietta College
Graduation years: M.B.A. in 2007 and B.A. in 2006
Hometown: Bethel Park, Pa.
Now living in: North Huntingdon, Pa.
Point Park M.B.A. alumna Megs Yunn was one of 10 people in the United States to receive $2,500 from Scholastic Media's "Be Big in Your Community Contest."

Yunn proposed "Beverly's Birthdays," a nonprofit organization that would provide birthday celebrations for local low-income and homeless children. Her proposal, which was chosen among more than 1,000 entries, was based on four criteria: feasibility, creativity, sustainability and impact.
What inspired you to create Beverly's Birthdays?
While volunteering at a local after-school program, I was helping an 11 year-old-girl named Beverly with a reading assignment. When the words "accustomed to" came up in the story, I gave the example of people being accustomed to cakes and gifts at birthday parties. It was then that she told me she had never had a birthday party. I went home that night and knew I needed to do something for children like Beverly. That led me to submit a mini project plan to Scholastic Media.
What made you choose Point Park University for graduate school?
I liked the project management focus of Point Park's M.B.A. program and the emphasis on strengthening communication skills. The Tuesday and Thursday evening class schedule fit well with my work schedule and Point Park was a to my job at that time. Also, my mom, Patty Joyce Schreck, is a biology and art alum of Point Park.
What was one of your favorite experiences at Point Park?
I really enjoyed the people in the program and being part of a cohort. My cohort was made up of a great group of individuals from varied backgrounds. Everyone brought something unique to the table.
How has an M.B.A. degree helped your career?
I had the opportunity to teach organizational communications as a visiting professor at Marietta College. A master's degree was also a requirement for my current position as director of volunteer programs at Washington and Jefferson College.
How do you incorporate the skills you learned in the M.B.A. classroom into the work you do today?
Project management is a large portion of my job as a director of volunteer programs. Also, my M.B.A. degree helped me to effectively put together proposals like the one I did for Beverly's Birthdays. In addition, my M.B.A. classes have helped me gain skills in managing a budget and have kept my math skills current. asically every day in my job I use the skills I learned in class.
What goals do you have for your career and for your nonprofit?
I have a strong passion for education so one of my goals is to get my teacher certification. As for Beverly's Birthdays, I would like to create sustainable partnerships with organizations in Pittsburgh. What's great about Pittsburgh is that it has such a strong philanthropic community so I'm hoping to get continued support from various organizations.
What advice do you have for individuals who are looking to advance in the nonprofit world?
First and foremost, make sure to do actual service work at a nonprofit to see why there is a need for that organization. Be passionate about the nonprofit you are working for and be willing to put in long hours. In my role as director of volunteer programs, I tell students that nonprofit service should be an extension of who you are and what you are passionate about.
More About: success story, alumni, Rowland School of Business, M.B.A., volunteer work