more news
M.B.A. Alumna's Internship with Urban Innovation21 Leads to Full-Time Job
Monday, April 15, 2013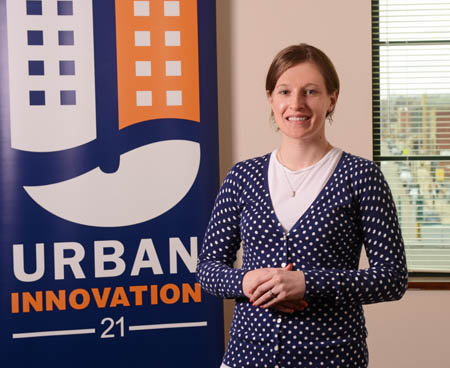 Meet Alyssa Tress

Job title: Internship Coordinator
Employer: Urban Innovation21
Degrees earned: M.B.A. with a concentration in management, Point Park Univeristy and Bachelor of Arts in Political Science, Clarion University
Graduation years: 2012 and 2010
Hometown: Beaver Falls, Pa.
Now living in: Pittsburgh, Pa.
Hobbies/interests: Reading, biking and the Pittsburgh Steelers, Penguins and Pirates
How did you hear about Urban Innovation21?
At the beginning of my second semester at Point Park, the Career Development Center emailed me an office internship opportunity with Urban Innovation21. It seemed like a great opportunity to gain additional professional experience while obtaining my M.B.A. During my internship with Urban Innovation21, I was able to help out with a variety of tasks and projects and gain real-life work experience. After two semesters of interning, I transitioned into a part-time role as the internship coordinator, where I managed three internship programs that promote the same great opportunities I experienced. Shortly after graduating from Point Park, I was thrilled to learn Urban Innovation21 offered me a full-time position to stay on as their internship coordinator.
What factors made you choose Point Park to earn your M.B.A degree?
I chose Point Park for the urban campus, convenient evening and weekend class schedules and the small class sizes.
What were some of your favorite grad school experiences?
First of all, landing my internship that turned into full-time employment was a great experience. Also, I enjoyed the variety of classmates I was able to meet in the program. Many were obtaining their M.B.A degrees to enhance their careers and it was nice to learn from their experiences.
How has your M.B.A. degree helped you in your career so far?
Point Park's M.B.A program allowed me to transition into being a more effective communicator. An important aspect of my current position is being able to communicate about various situations and with a variety of individuals. Based on what I learned in the M.B.A. program, I am more comfortable dealing with difficult situations and creating positive outcomes. In addition, my M.B.A. degree allows me to be a major contributor to my company which is continuously growing.
What are your career goals?
In my current position, I am able to help a variety of students from Carlow University, Community College of Allegheny County, Duquesne University and Point Park University land great internship experiences. It has made me realize how much I enjoy managing programs with great goals. In the future, I would like to transition into a career as a program director.
Is there anything else you'd like to add?
I really enjoyed earning my M.B.A. degree from Point Park University. I was able to learn tremendously from all the professors who work in the fields they teach. As well, I made great connections and learned from the experiences of my fellow classmates. It has truly made me an improved professional.
More About: success story, alumni, Urban Innovation21, M.B.A.