more news
M.B.A. Classes Benefit 2017 Graduate Working for U.S. Department of the Treasury
Thursday, June 1, 2017


Meet Oliha Grichang
Job title: Contact Representative, Wage and Investment Division
Employer: U.S. Department of the Treasury
Degrees earned: M.B.A. in Global Management and Administration, Point Park University, 2017; Bachelor of Arts in Philosophy with a minor in Cross-Cultural Studies, Divine Word College, 2015
Hometown and country: Torit, South Sudan
Now living in: Pittsburgh's Mt. Lebanon Township
Hobbies/interests: Amateur guitar player (Congolese Seben), reading, technology enthusiast, building and flying drones (quadcopter) and traveling
LinkedIn: Oliha Grichang

Update
Grichang is now a business systems analyst for PNC.
How did you land your position with the U.S. Department of the Treasury?
After I finished my undergrad degree in December 2016, I moved back to Pittsburgh from Dubuque, Iowa, to start the M.B.A. program at Point Park University. A long-time family friend and mentor by the name of P. Bercik, advised me to explore job opportunities at the executive branch.

I felt the Department of Treasury was suitable for me, so that December I loaded my application onto the U.S. Office of Personnel Management website. Three days later, I received an e-mail from the Treasury asking me to take an online assessment test. A few weeks later, I received a tentative offer, pending background check/security clearance.

Finally, in March 2016, I started a comprehensive 90-day training with the Treasury and I have been there ever since. I am honored to be a civil servant for this great country!
What factors made you choose Point Park's M.B.A. program?
Globalization continues to grow so I believed an M.B.A. degree focused in global management would give me a platform to be an effective leader in any organization. However, the main reason I chose Point Park was that I heard regularly from my older sister (Ikuma Ojok, M.B.A. 2014 grad) and my cousin (Benedict Kilang, M.B.A. 2008 grad) how fun and friendly the professors at Point Park were and their effectiveness in making classes challenging, engaging and meaningful.

Also, I liked that the diversity of the graduate student body brought different perspectives and philosophies to the classroom. Finally, Point Park's Downtown location and evening class schedules are ideal for those of us who work in professional jobs during the daytime.
Tell us about your journey to the United States.
In 2003 (after three years of the vetting process), I arrived at Pittsburgh International Airport as a refugee from South Sudan - the newest country in Africa and the world. South Sudan gained independence in 2011, after decades of civil war. My family and I are the victims of this disastrous civil war. It is a dreadful anguish that no person should ever experience.

On the bright side, I was told by the various Pittsburgh organizations that serve immigrants and refugees, "Pittsburgh is your home and where you belong." Now, I am a proud and intransigent Pittsburgh Steelers fan.
How have Point Park's M.B.A. classes and faculty helped you professionally?
The short answer is that I learned to think outside the box while being compassionate at the same time. For example, in Dr. Dimitris Kraniou's International Regimes class, my group was tasked to design a start-up company (Prometheus) to mine and transport minerals from Mars and bring back to planet Earth.

In Dr. Angela Isaac's Managing International Enterprises class, I learned to be a compassionate CEO through corporate social responsibility programs. Also, in Dr. William Breslove's Special Topics in International Business class, my group and I were charged to craft immigration policy that could be presented to President Trump. Finally, in Dr. James Haley's International Finance class, my colleague and I compared and contrasted the U.S. Federal Reserve to the Central Bank of Canada and made future predictions on the interest rates for both countries.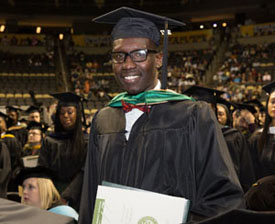 Through my M.B.A. classes, I learned not only to navigate the complexity of the federal tax codes, applications and enforcements, but also how to unlock the mysteries of the tax codes for individuals and businesses.
Describe your experience at Point Park's 2017 Hooding Ceremony.
The Hooding Ceremony was remarkable! Walking across the stage and hearing my name announced while my family cheered me on was one of the most exultant moments in my entire life.

As Orrin Hatch said best, "There is a good reason they call these ceremonies 'commencement exercises'. Graduation is not the end; it's the beginning."
More About: Rowland School of Business, Downtown Pittsburgh, alumni, graduate programs, M.B.A.