more news
Meet David Rowell, Assistant Professor of Sport, Arts and Entertainment Management
Tuesday, November 20, 2012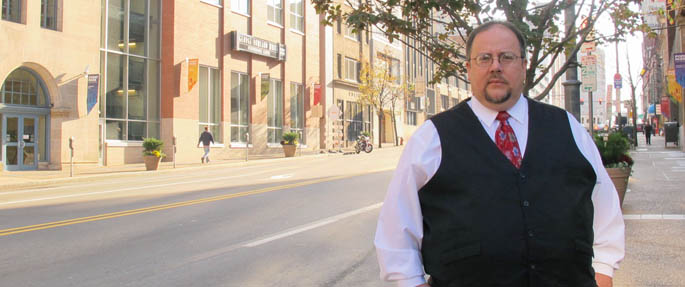 David Rowell, M.F.A., assistant professor of sport, arts and entertainment management, has taught and worked in theatre management all over the United States. Prior to joining Point Park, he was executive director of the Spruce Peak Performing Arts Center in Stowe, Vt. Before that, Rowell was an assistant professor and head of the M.F.A. theatre management program at Florida State University. Rowell earned a Bachelor of Arts in theatre from Hope College and a Master of Fine Arts in theatre management and arts administration from the University of Alabama.
What has it been like to teach and work in theater management all over the United States?
Hear more from David Rowell
---
Related links
SAEM program
SAEM faculty
Schedule a campus visit
Request information
It has been a true honor and privilege to work in theatre management for the past 20 plus years and in performing arts for 35 plus years. One of the best parts of working in so many different venues and locations around the country is the opportunity to work with incredible professional artists and managers, entertainers, production staffs, students and faculty, house staff and more. The chance to learn and experience new techniques and work models is outstanding, and I feel very fortunate to have a wonderful network of professional friends, colleagues and artists that extends across the country and beyond.
Who inspired you to pursue a career in theatre arts?
I would have to initially say my parents were the main influences because they are both artists - my mother is a professional musician and music teacher and my father is a minister and professional storyteller.

During my college years, Michael Grindstaff and George Ralph at Hope College were my faculty advisors and helped steer me towards stage management, theatre management and presenting performing arts.

Another big influencer on my career is five-time Tony winner and actress Julie Harris. I got the chance to stage manage her in the world premiere of a new play at the Berkshire Theatre Festival back in the 1980s. Julie said something to me that has really shaped my career. She said that I should never lose my love and passion for the arts, and what she called "my incredible energy" towards my work. She was one of the first people to guide me towards teaching and working with students.
What brought you to Point Park University?
What brought me to Point Park were really three things - the students, Pittsburgh and the SAEM program and its faculty. I really like Pittsburgh and all of the superb cultural and entertainment opportunities here. After the last two years of living on a mountain and working at a ski resort's theatre, I was ready to get back into a city environment. I was fascinated by the SAEM program's blending of sports, live entertainment and traditional performing arts based in a business background.

Also, when I came here to interview, I really appreciated the professionalism and great teamwork of the faculty and staff. But the main reason I came to Point Park was because of the students. When I interviewed for the position, I had the opportunity to guest lecture in three classes, and it was great. Students were energetic, enthusiastic, excited about the material and asked good questions …That was when I knew Point Park was the place for me.
What advice do you have for our students pursuing careers in arts management?
First and foremost, be true to yourself and your career. If you are going into arts management because you think it's a way to work until you can make it as an actor or a director, then choose another path. Arts management is often thankless, frustrating and exasperating. But there is nothing like it! You will get the chance to work with some of the world's best performers and incredible people. Remember to take time and enjoy it while you are working too.
Second piece is be the best you can be at your craft or your work, and surround yourself with people who are like-minded about your work you are doing together, your passions for your work, and the things you are creating as an arts manager. Robert Freedman (former president/CEO of Ruth Eckerd Hall in Florida) once told me that "the best thing a manager can do is hire people who are better at their areas of expertise that I am, and lead them."
Final advice is to remember that there is always something to learn, and be open to learning it! My grandfather told me when I was 14 years old that you will learn something new every day of your life, and the day you don't learn, well, is the day you pass on. And ever since then, I have always believed that I have something to learn from my work in performing arts and arts management, my life, and from interacting with people everyday of my life.
More About: Rowland School of Business, faculty, sports, arts and entertainment management