more news
Mentors of BOLD Program Inspire Students to Pursue Accounting, Finance Professions
Monday, December 1, 2014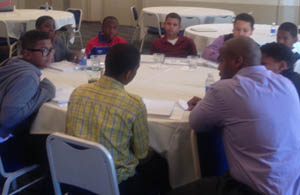 For three years, middle school students from Manchester Academic Charter School have been exploring careers in accounting and finance, thanks to the support and guidance of the mentors of Point Park University's Building Our Leaders Daily program.
Made up of Pittsburgh-area accounting and finance professionals, the mentors of the BOLD program, engage students in hands-on learning activities that address how money is used, career awareness and preparation, getting a job, advancing in their career and entrepreneurship.
"Our BOLD mentors expose middle school students to the many career pathways in the fields of accounting and finance. Students benefit from these mentors who have achieved impressive career success through hard work, dedication and professional advancement," said Herman Reid, Jr., Ed.D., director of the BOLD program and academic outreach at Point Park.
According to Reid, middle school is an important time for students to see the connection between what they are learning in school and their future career.

"The mentors of the BOLD program possess the ability to expose students to the aptitude, interest, values and academic skills needed to pursue a productive life," remarked Reid.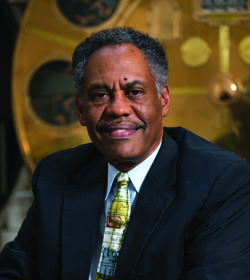 Terry Collier

Meet the Mentors
In a recent interview, Terry Collier, David Hopkins, Anthony Henry, Michael Jasper, Frederick Massey and Linwood Mitchell were asked about their experiences serving as mentors for the BOLD program. Below are their responses.
What inspired you to become a BOLD mentor?
"My father died when I was two years old. As a result, I grew up in a single parent household. There were several men who were my mentors who helped in my development. I want to help others as I was helped." - Terry Collier, president, Terry Collier & Associates, P.C.
Anthony Henry

"I am very passionate about ensuring that middle school kids learn about finance and the various careers in the finance industry." - Anthony Henry, vice president and relationship manager, Bank of New York Mellon.
"The importance of having someone you can trust and serve as an objective ear and voice has been important for me in my academic and professional development. I was inspired by the coaches, teachers, peers and people who mentored me." - David Hopkins, principal and owner, Capital Solutions for Community Reinvestment.

"First, I feel I have been blessed so I am compelled to do what I can to give back. Second, the program's focus on accounting and finance is quite unique and fits perfectly with my professional experiences." - Michael Jasper, vice president and senior finance manager, PNC Financial Services Group.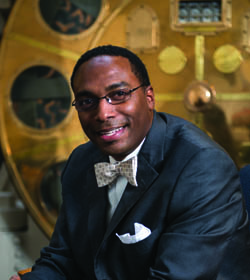 David Hopkins

"I was mentored through Inroads, Inc. to pursue my business career when I was in high school and college. I know first-hand the benefits of being guided to achieve personal goals." - Frederick Massey, CEO of Familylinks, Inc.
"The vision of building and shaping our future leaders inspired me to become a mentor. I saw an opportunity to give back in a similar way that many people in my life gave to me." - Linwood Mitchell, vice president and market manager, PNC Financial Services Group.
What have you enjoyed most about being a mentor?
"I have so enjoyed hearing young people speak of their talents and being able to help them develop and plan their use of them." - TC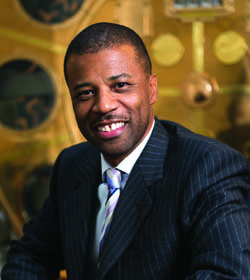 Michael Jasper

"I have enjoyed how the kids passionately interact with me during my presentations on career awareness." - AH
"The most enjoyable thing for me has been the year-end celebration. The progress of the children, the pride in their accomplishments, the satisfaction of their parents and the realization of the vision, spirit and work of Dr. Reid coming to fruition is priceless." - DH
"During the small mentoring sessions, the kids really open and it gives me the opportunity to address their specific needs and issues. This is truly the most rewarding part of the mentorship." - MJ
"I've enjoyed seeing how these young people are able to have a vision and then operate their businesses as seventh and eighth graders. The maturity that they demonstrate is amazing and encouraging." - FM
Frederick Massey

"Learning from the students has easily been the most enjoyable part of being a BOLD mentor. Listening to them discuss their dreams and aspirations gives me hope for the future." - LM
What are your goals as a mentor?
"Help young people be aware that they are uniquely special and have something to contribute to society; encourage them to value each day as an opportunity to invest in themselves and help them see the joy in using their talents. As one of my mentors told me, you are only a failure when you quit!" - TC
"To inspire the BOLD mentees to strive for excellence in their lives and future careers." - AH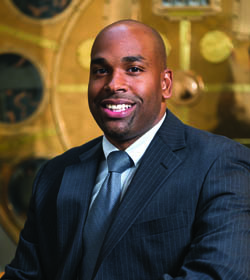 Linwood Mitchell

"Offer academic insights that complement classroom teaching, home assignments and tutoring efforts; give a practical perspective of what professional work is and present an image that is representative of what they could strive for in themselves and others." - DH
"I want to positively impact one child's life such that he or she can go on to do whatever they have a passion to do." - MJ
"Transfer my knowledge of what is necessary to be successful in business and to be a support now and as they progress in their education and careers." - FM
"Always be honest with the students. Be available to the students. Lead by example." - LM
More About: business management, PNC, economics and finance, Downtown Pittsburgh, Rowland School of Business, accounting, BNY Mellon