more news
New Accounting Instructor Shares His Life Experiences as a Refugee With Students
Tuesday, January 26, 2016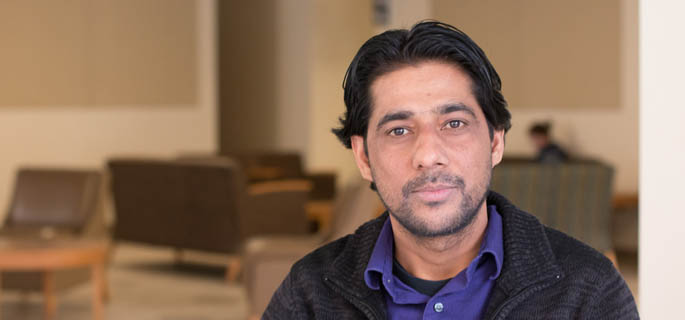 Born in Bhutan and a refugee in Nepal for 18 years, Ishwari Subedi, M.Com., M.Acc., was recently appointed full-time instructor of accounting for Point Park University's School of Business. Prior to joining Point Park, Subedi was a staff accountant for the Vermont Refugee Resettlement Program's field office in Colchester, Vt., which is part of the U.S. Committee for Refugees and Immigrants. Before coming to the United States, he was a lecturer for Tribhuvan University's Amity College in Nepal and University of North Bengal's St. Joseph's College in Darjeeling, India.
How did you become interested in the field of accounting?
I've always had a steady interest in business, finance and numbers so I decided to chose accounting as a major in college. This decision was made taking into account that it would lead me into a career field that contained not only high pay but also the opportunity to be versatile and work for public, private or nonprofit organizations. Accounting can open wide the doors to a variety of business fields and career paths.
So far, what do you enjoy most about teaching at Point Park?
At Point Park, teaching students from a diversity of backgrounds and cultures is the most pleasing thing for me. I have the opportunity to change lives through my teaching by incorporating in class my life experiences and what I have accomplished thus far.
The University has a good teaching environment, small-sized classes, cooperative and friendly students, and helpful faculty and staff members. It's quite an honor for me to have this opportunity to join members of the faculty and staff of Point Park. I enjoy every bit of my job.
In what ways do you incorporate your international life experiences as a refugee into the classes you teach?
I always encourage my students to learn about global issues, which are of enormous importance in life, and I provide multicultural perspectives. With persistence and self-confidence, I do my best to enrich all of my classes with my international, personal and professional life experiences. I encourage my students to be successful entrepreneurs, efficient managers, honest business people, unbiased journalists and ethical politicians in order to positively shape the life of all people nationally and internationally.
What advice do you have for our international students?
My advice to international students is to be the one to make a difference in our community and always stand for something innovative, something original and something novel. You should be soaring so high that even the sky won't be the limit for you. Spend every minute in a useful way and strive to continually develop your knowledge, learning and personality. You should not focus only on books, but also other areas such as social services, dance, music and sports. Be a change agent for an educational revolution, which could include eradication of illiteracy throughout the world.
Do you have a favorite quote?
"Take risks in your life. If you win, you can lead. If you lose, you can guide." - Swami Vivekananda

Photo by Victoria A. Mikula, junior mass communication major


More About: economics and finance, international, faculty, accounting, Rowland School of Business