more news
New Sales & Innovation Center Sets Up Marketing Students for Success in Collegiate Sales Competition
Tuesday, April 19, 2022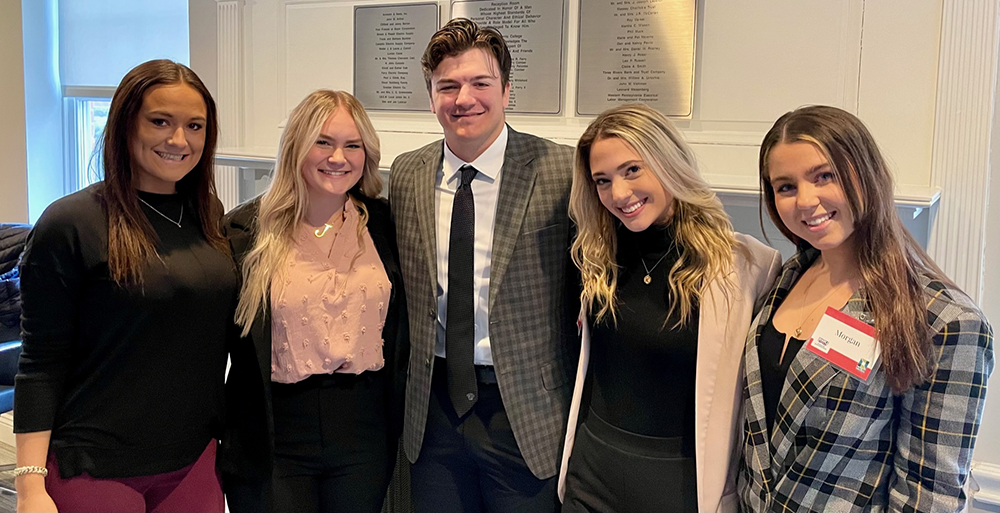 Pictured from left to right are students Eva Herb, Jordan Komisarski, Anthony Santilli, Kamryn Taylor and Morgan Smith. 
"What the University has created with the Michael P. Pitterich Sales & Innovation Center is truly amazing, and it is such a great space to have access to as a student."
Kamryn Taylor '24, marketing and sales major
Putting their classroom lessons into practice, sophomores in Point Park University's marketing and sales program recently competed in Robert Morris University's Annual Sales Challenge, a multi-university sales competition hosted by Net Health. Students Anthony Santilli, Morgan Smith and Kamryn Taylor represented Point Park, assisted by student sales coaches Jordan Komisarski and Eva Herb.
Taylor, who aspires to be a sales director for a corporation, finished first in her section in round one and finished third overall in finals, winning a $500 prize.
In the competition, students were given information about Tissue Analytics, a SaaS software product from Net Health for wound care. They role-played as account executives working for Net Health coming into a sales meeting with a buyer at St. Mary's Hospital.
"This competition has really enhanced my knowledge in sales," said Taylor, a Hopewell Area School District alumna. "I was introduced to concepts and techniques that I hadn't previously learned about, so it was a true hands-on learning experience. Hearing feedback from sales professionals who do this for a living was so helpful and strengthened my motivation as an aspiring professional."
Taylor and Komisarski credited Dorene Ciletti, H.J. Heinz Company endowed chair in business management and associate professor and director of the marketing and sales program, with successfully preparing them for the competition.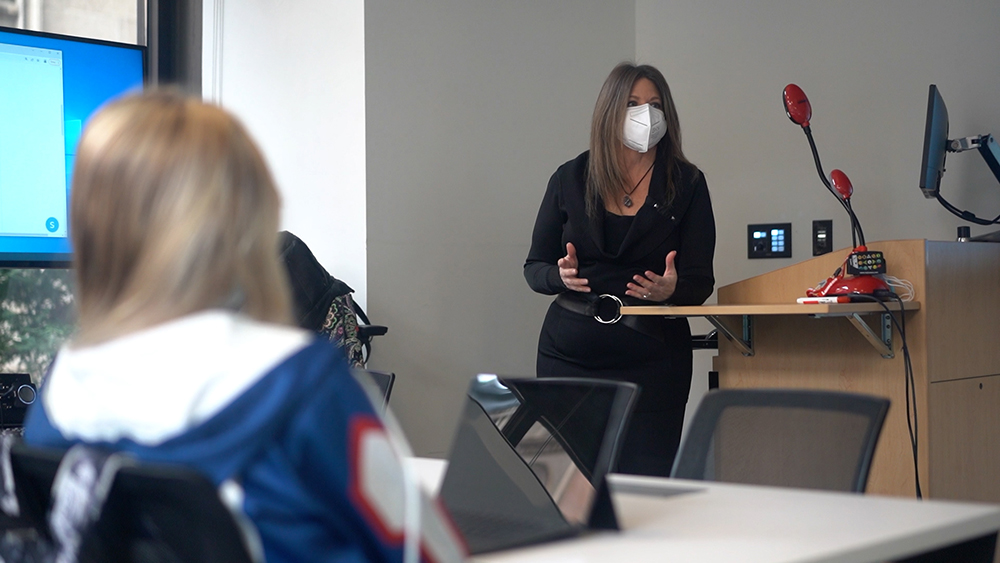 Professor Dorene Ciletti, Ph.D.
"She always puts in the extra effort to make sure her students understand material, take advantage of valuable learning and networking opportunities and apply those skills in the real world," said Komisarski, a McDowell High School alumna and aspiring social media marketer. 
"Our students competed effectively and made great corporate connections," Ciletti said. "Providing opportunities for experiential learning is a key focus of our marketing and sales program, facilitated by the Rowland School of Business' newly-launched Michael P. Pitterich Sales & Innovation Center. These highly-engaged students are taking advantage of opportunities to put their marketing and sales education into practice while building career-ready skills."
The new center features three simulation spaces, a conference room space and a technology-enhanced training room in which students can rehearse sales scenarios while their classmates observe them in real time in separate classrooms. Students are also able to record their practice rounds and watch them back for feedback and evaluation. 
Taylor and Komisarski both touted the center as a significant element of their competition preparation.
"My team and I would have meetings in the center to role-play and practice different scenarios," Taylor said. "What the University has created with the Michael P. Pitterich Sales & Innovation Center is truly amazing, and it is such a great space to have access to as a student."
"My professional selling class with Professor Ciletti is held in the center," Komisarski said. "Our team would gather after class to share ideas and talk through strategies for the sales competition. I am so excited to continue using the center in the future."
In the video below, learn more about the Michael P. Pitterich Sales & Innovation Center:
More About: Rowland School of Business, success story, faculty, marketing and sales, student competition