more news
Organizational Leadership Professor Helena Knorr Presents in Mexico City
Monday, June 30, 2014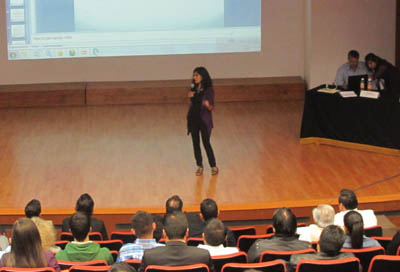 Helena Knörr, Ph.D., associate professor of organizational leadership in the School of Business at Point Park University, traveled to Mexico City June 26 to 27 for the Second International Meeting in Entrepreneurship Development.
At the conference she presented on the topic "Values, Ethics and Sustainable Development of Businesses" and conducted a workshop for business owners on "Tools for Consolidating Businesses in Mexico."
Also at the conference, Knörr was interviewed by Forbes Mexico for the article "Three pieces of advice from Mexico to the world."

In the article, Knörr talks about the need to rescue indigenous values to foster a more collaborative, sustainable and ethical business perspective on entrepreneurship and how important this is for Mexico.
Knörr earned a Ph.D. specializing in human resource development from the University of Minnesota. She serves as a reviewer and consulting editor for several peer-reviewed journals and professional organizations and is the director of the Global Entrepreneurship Program for Women in Latin America.
Learn More
Learn more about the M.B.A., M.B.A. in global management and administration, M.A. in organizational leadership and B.A. in organizational leadership programs offered through Point Park's School of Business.
More About: Rowland School of Business, organizational leadership, faculty, faculty presentation