more news
Pittsburgh CLO Chooses SAEM Students as Gene Kelly Awards Interns
Thursday, February 19, 2015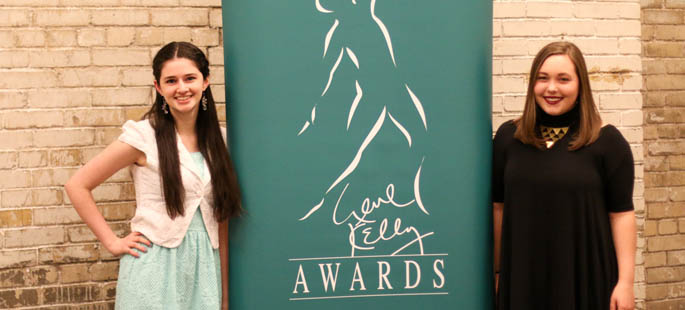 Point Park SAEM majors Amber Flevaris (left) and Logan Farren pose outside of the
Pittsburgh CLO Academy in Downtown Pittsburgh.
Junior sports, arts and entertainment management majors Amber Flevaris, from Fair Oaks, Pa., and Logan Farren, from Monroeville, Pa., are interning for the Pittsburgh CLO as Gene Kelly Awards coordinators. Below, the students discuss their internships, why they chose Point Park, their career goals and more.

How did you land your internship with the Pittsburgh CLO?
Amber Flevaris: My high school was involved with the Gene Kelly Awards and I loved everything about the program and the opportunities it offered students. Working for the Pittsburgh CLO has been a big dream of mine since then. At the beginning of my junior year at Point Park, I knew I needed to apply for the Kelly Awards. All of my experience in event planning and internships in the past helped me land this internship position.
How have your SAEM classes helped you in this internship?
Logan Farren: All of my classes at Point Park have helped me to develop my organizational and professional skills. As a Gene Kelly Awards intern, I provide customer service to all of the participating high schools, students and judges. The SAEM curriculum encourages students to network and converse with professionals so I already had solid experience in this area. I think that is one of the greatest assets the program offers its students.
What inspired you to attend Point Park and major in sports, arts and entertainment management?
AF: I have always been interested in the performing arts and Point Park has an incredible reputation for cultivating talent and appreciating the arts as a whole. My cousin attended Point Park for musical theatre so it has always been on my radar. When I decided I wanted to work in the entertainment management industry, I looked at many different schools, but Point Park stood out to me the most. I was sold by Point Park's city atmosphere, its breadth of knowledgeable professors still working in the entertainment industry, the uniqueness of the SAEM major and the close proximity of the Cultural District to campus. Coming to Point Park has been one of the best decisions I have made.
What's been your favorite Point Park experience so far?
LF: Living in Downtown Pittsburgh has by far been the greatest experience as a student at Point Park. Although I grew up in the Pittsburgh area, I very rarely traveled Downtown unless I had tickets to a show or sporting event. Point Park has immersed me into the urban way of life and helped me grow as an individual. Even though Pittsburgh is a smaller, closer-knit community, living in an urban environment definitely prepared me for my internship this past summer with The PULSE on Tour in New York City.
What are your career goals?
AF: My ultimate career goal is to one day run a performing arts venue. In addition, I have discovered my skills in event planning and fundraising while at Point Park so I would also enjoy working in development for a nonprofit organization.
LF: I do not have a set "dream job" but I do know that I want to pursue a professional career working closely with the arts. I am very passionate about the performing arts and I love the fast-paced environment of special events. I hope to find a suitable career for myself in this industry that I hold so dear to my heart!
Final thoughts?
AF: So far, this internship has been an incredibly worthwhile experience. I am really thankful to Point Park for preparing me so well for this opportunity to work for this outstanding organization.
LF: I'd like to end with a quote from Warren Bennis: "There are two ways of being creative. One can sing and dance. Or one can create an environment in which singers and dancers flourish."
More About: internships, Rowland School of Business, musical theatre, sports, arts and entertainment management